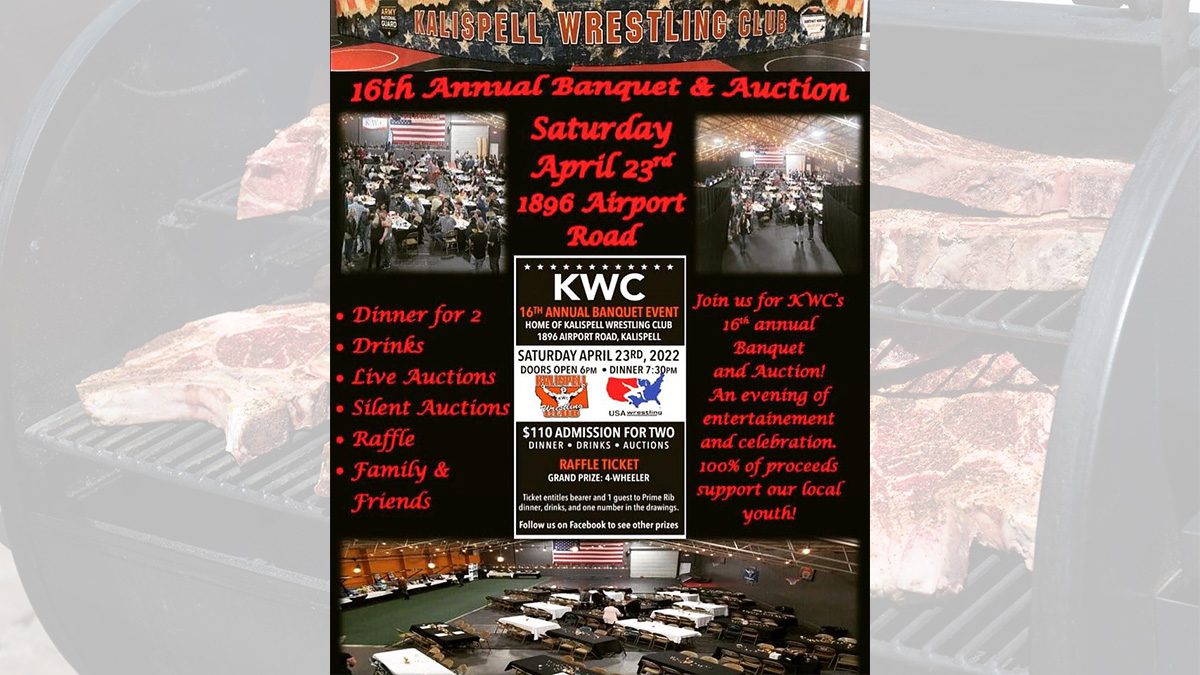 The 16th Annual Banquet & Auction will take place Saturday, April 23, 2022, from 6pm until 10pm at the Kalispell Wrestling Club. The evening promises lots of fun, games, silent and live auction, and a chance to win a 4-wheeler and sweet 16 prizes. 100% of all of the proceeds from 16th Annual Banquet & Auction go to support the local youth. 

16th Annual Banquet & Auction Details
All of the wrestlers have tickets on sale. The price is $110 per couple and includes dinner for two and a chance to win the 4-wheller. Learn more about the event and where to get tickets to the 16th Annual Banquet & Auction – HERE. 
KALISPELL WRESTLING CLUB
As the only year-round, non-affiliated wrestling program, Kalispell Wrestling Club is committed to providing the finest coaching, wrestling and youth development program in the Flathead Valley! It is our strong belief that wrestling builds character, teaches kids how to overcome obstacles, handle their emotions, respect authority, the importance of being a good teammate, and that success has to be earned through hard work and determination. As a multifaceted club, we promote and support all three styles of wrestling: Folk-style, Freestyle and Greco-Roman wrestling. Encouraging participation in local, state, regional and national championships allow our athletes of all ages, size, gender and skill level to increase their competition experience, improve their wrestling talents and enhance their confidence level, while developing vital life-long skills such as leadership, teamwork, integrity and sportsmanship. Ultimately, it is our intent to become the best local club in Montana through generating well-rounded wrestlers, utilizing our program as a foundation to high-school, college and national programs. Through our training, our wrestlers will be ready for tomorrow's challenges! Opportunities range from a 6-week Little Guy season to year-round practices to joining the traveling team. No matter which level you pursue, you will find no better program to develop your skills. Learn more – HERE. 
Are you in the Buzz?
406.Buzz is your best resource for the latest events happening around the Montana Flathead Valley area. From Kalispell and Whitefish to Eureka and Columbia Falls, we've got the hottest events, best outdoor activities, restaurant lists, and so much more.  From farmers' markets and breweries to festivals, music events and family fun entertainment, we know all the buzz happening around town.
Whether you are a local or a visitor, we have all the insider information on the best places to check out every day of the week. Check out our  Events Calendar – HERE –  and get in the buzz!