Cirque Ma'Ceo at the Majestic
August 8, 2021 @ 5:00 pm
$20.00 – $30.00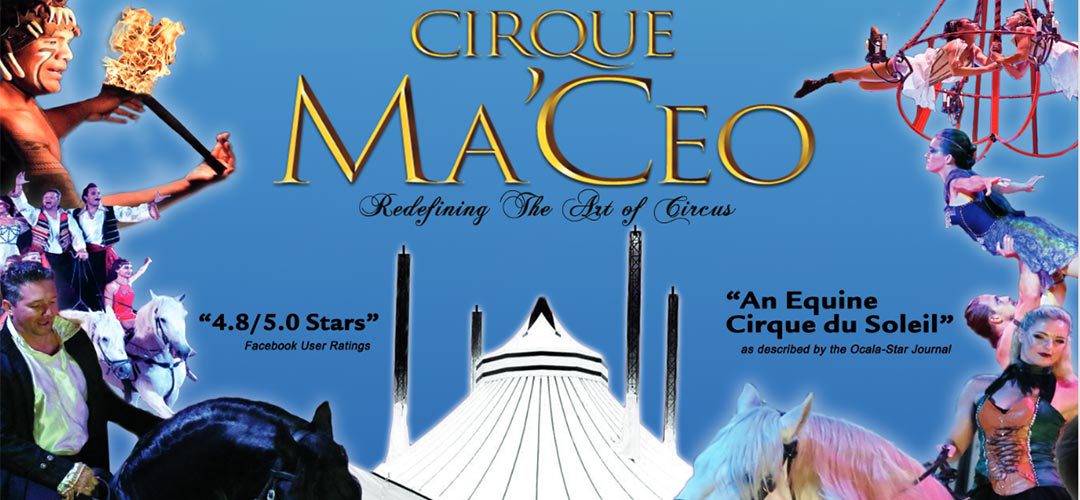 Cirque Ma'Ceo RETURNS to Kalispell, Montana with a revolutionary theatrical phenomenon like no other… an emotionally charging, up close and personal, luxurious experience.
Step into our exclusive universe and settle back in time. The world of Ma'Ceo is proud to showcase an almost extinct gem from the ancient times. Only 500 left in the world, is one of the rarest equine breeds…the magnificent "Ben Hur de Bernaville" a Boulonnais Draft Horse Stallion. Mesmerizing acrobatic feats, aerial dancing, and exotic horses, come feast your senses on the beauty and mystery through the adventure of Cirque Ma'Ceo.
Cirque Ma'Ceo – "where hoof-beats and heartbeats become one…" Let the sound of thundering hooves transcend you back to the roots of festive gypsy life, in this contemporary high energy acrobatic stunt show…
Over ten different breeds of horses perform the most classic of riding styles from fast-paced Cossack riding, Classical Dressage, to a Ballet dance atop galloping horseback in a high-energy, fully choreographed, original experience sure to keep the audience on the edge of their seats.
In the grand arena, a European feel in the air and intimate red misty lighting sets the tone, as the performance begins seamlessly through the gypsy music, aerial dancing, and heart-pounding acrobatic feats on galloping horseback. Passionately illustrating the effortless extraordinary bond between horse and man. The entertainment to be seen is unlike any other traveling show in the world! A completely original experience appealing to all age groups, with exotic breeds of horses and breathtaking images…
Group tickets of 10+ please feel free to call for special rates!
Children 2 years and under are allowed to sit on your lap FREE of ticket charge.
Parking is FREE!
-Cirque Ma'Ceo hotline: 800-927-1539
*Shows run approximatley 1 hour and 35 minutes*
Tickets purchased on our Site are subject to a per ticket service fee and a non-refundable per order processing fee.
Related Events