CONNEX:ION with ONHELL, sAuce, ANIMAL TREATS, and WR!NSE
February 11, 2022 @ 9:30 pm

-

February 12, 2022 @ 2:00 am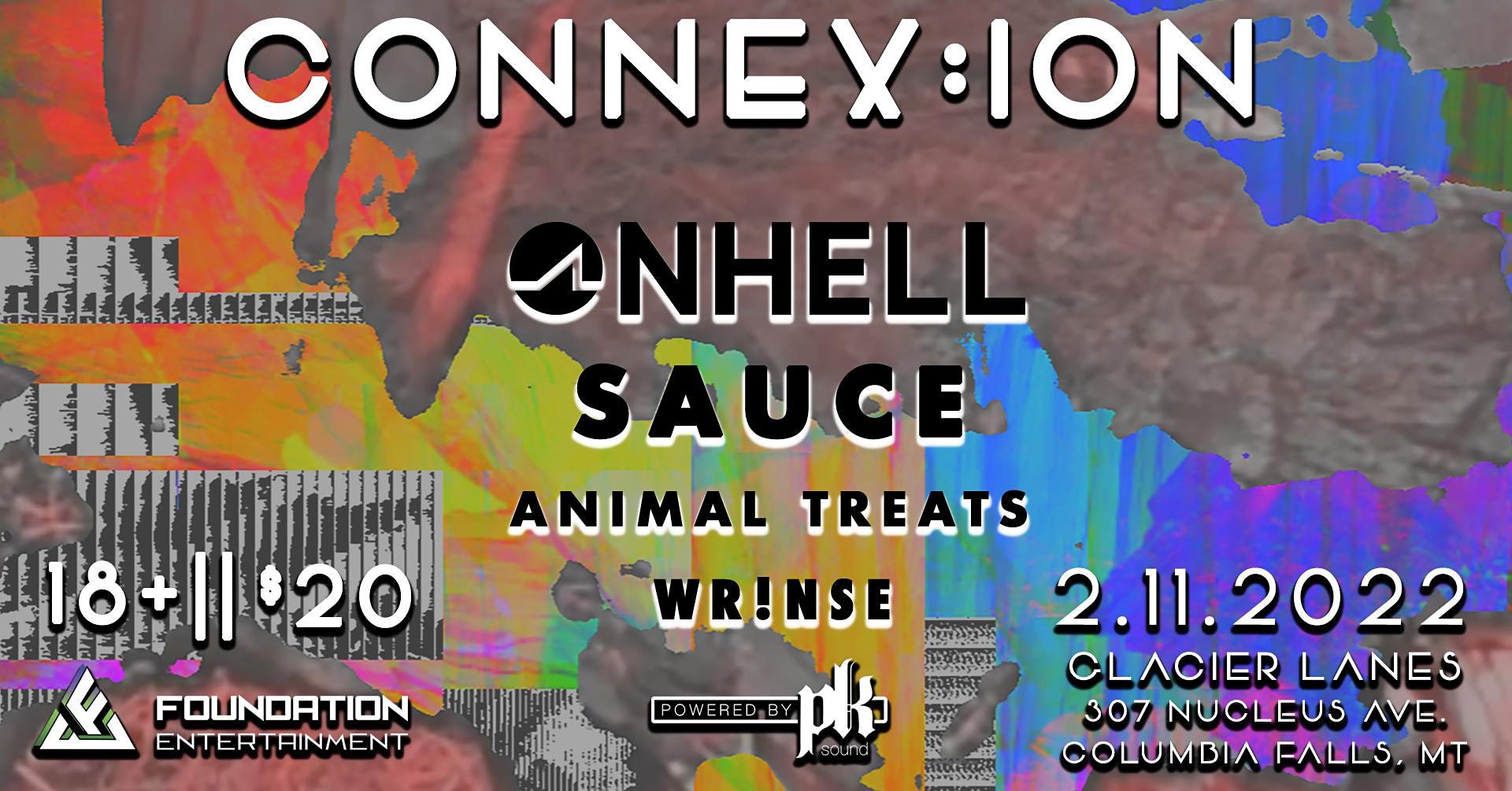 ART.CASH & Foundation Entertainment PRESENTS: CONNEX:ION with SPECIAL GUEST ONHELL (LA)
ART.CASH & Foundation Entertainment PRESENTS: CONNEX:ION with SPECIAL GUEST: ONHELL (LA)
Come join us May 29th at Casey's in Columbia Falls, MT for a community focused collaborative event with ECLECTIC SOUNDS, DEEP BASS, ART, and VENDORS with SPECIAL GUEST: ONHELL. PK sound will be provided by Foundation Entertainment.
This a low capacity venue so we highly suggest buying pre-sale tickets!
The FIRST 75 PRE-SALES will get 3 FREE raffle ticket with each pre-sale ticket that is purchased. We will be raffling off a BIG SWAG BAG off merchandise from all of our SPONSORS and ARTISTS. The last raffle we did the winner ended up with about $350 in merchandise.
Additional raffle tickets will be available all evening for $1. You will be able to purchase those through sAuce until we do the drawing right before the headlining act.
As covid numbers are rising…AGAIN… we HIGHLY RECOMMEND masks, social distancing, being tested and or vaccinated. We are in MT so we can not require any of these things, but it is highly recommended. If you are showing any symptoms of any cold/flu/covid we ask you to please respect our attendees, artists, team, venue owner and his employees and stay home. We will be very sorry to miss you but we really care about the health and well being of our community and it would be wonderful if everyone did the same. X ❤ ~ sAuce
Musical performances by:
ONHELL
www.soundcloud.com/onhellmusic
"ONHELL" is a phonetic respelling of the Spanish pronunciation of angel and the first name of Los Angeles based
composer, producer and DJ, Angel Rubio-Hale.
"I feel stretched between lots of influences. In my music, I embrace these contrasts, the light and the dark, the feminine and
the masculine, the melody and dissonance. In my live sets, I enjoy building a bridge between different sounds by merging
together bass, rap, and experimentally anomalous music. That way, people experience an atmosphere that broadens
perspectives while also encouraging everyone to turn up and party."
~ ONHELL
ONHELL's sets are diverse journeys comprised mostly of all original beats. Though no two tunes are the same, all
with varying bpms and rhythms, ONHELL masterfully melds it all with distinct cohesion. He's completed multiple
US tours, a solo tour across Asia and has played at many notable festivals including Symbiosis Gathering,
Shambhala, Croatia's Outlook Festival, Wakaan, Northern Nights, Treefort Music Fest, What the Festival,
Raindance Campout, Untz Festival, and Emissions.
sAuce
sAuce, a native of Northwest Montana started producing his own music in early 2009, and now after eleven years of intricately crafting his unique sound, he continues to take his art to new levels. His compositions are saturated with visceral journeys that guide his listeners through a multi-dimensional, immersive experience. Never confined to one genre, sAuce's music is flavored with tastes of everything from crunchy, hip hop influenced beats to the futuristic musings of a New Age romantic. No emotional stone is left unturned through sAuce's musical explorations, making his sets both dynamic and gratifying.
Animal Treats
A staple in the western half of Montana and based out of Missoula, Animal Treats has quickly become one of the most desired acts in state. He has shared the stage with artists such as Kll sMTH, and has performed at Montana's top tier gatherings like Pirate Party, BassBoat and Harvest Fusion. He is constantly recognized from his uncanny ear for intricate sound design and his way with that dirty low end. His style is powerful, raw and exclusive. If you have been under a rock the past few years, and haven't heard of him…. get ready!
Treats for all you Animals out there
Wrinse
Wr!nse, formerly known as Wr!lly Gross, also part of M!nd Hunny and outside of his musical aliases, Will Gross. Being a well seasoned DJ residing out of Missoula, Montana. His influence comes from the pioneering days of UK Dubstep and Bass music. Smashing out genres of West Coast Bass, Hip Hop, Grime, and the classic UK style Dubstep always adding his hint of spice and flavor.
Wr!nse has been a serious player in the Montana industry for some time. Always holding it down hosting shows, events and festivals with his flagship production company, Foundation Entertainment.
Wr!nse has opened for a rack of notorious names such as Mr. Bill, iLL Gates, Dimond Saints, kLL sMTH, Vibesquad, Secret Recipe, and Bricksquash. Also, has featured in numerous festivals such as Pirate Party, Shine, Neon City, Electric Summer Camp, and Private Party.