Death By Wine…Murder at the Grand Gatsby. Presented by Waters Edge Winery
February 12, 2022 @ 7:00 pm

-

10:00 pm
Sleuth your way to winning our real life Clue game! A 1920's Murder is a foot at the Valley's #1 Winery & Bistro!
Grab your lover or your friends, dress up & join us! This night of intrigue is suitable for all adults who want to have fun & meet new people! Brought to you by Waters Edge Winery & Bistro and DJ's Mystery Parties.
Tickets are $45/person and include:
Fully guided event, instructions, clues, prizes, 1st glass of wine, selection of gourmet tapas & guaranteed fun!
THE PLOT:
It's the height of Prohibition in 1920s Chicago, and there's a mob war brewing between the South Side Gangsters and the Northern Chicago Mob Outfit. The two ruthless crime leaders Hal Sapone and Beanie O'Dannon have finally reached an agreement on bootlegging practices in Chicago and have decided to pull together resources to undergo a collaborative effort with criminal endeavors.
On the surface, this strategy seems similar to bailing out a sinking ship with tin cups, nevertheless.
Recently, gangsters from the north and south have been spotted together at various speakeasies throughout Chicago, but the tension in the air is always thick enough to be cut with a knife. However, this newfound relationship between the opposing mob bosses has served, thus far, to inhibit gratuitous bloodshed as in the past. Part of the success of this truce is that both crime bosses have found new dames, thereby intertwining more mutual relationships between the two factions.
The two gangs have set an official date to meet at Hal Sapone's Grand Gatsby Speakeasy to resolve all remaining differences. Will these two underground organizations resolve their disputes or will a massive melee erupt, rekindling the fatal flames between them?
This is where your story begins.
_________________________________________________
Additional food, wine & cider available for purchase. Make this Valentines Day a memory you won't soon forget!!
Adult themed entertainment.
**Tickets are non-refundable within 7 days of event**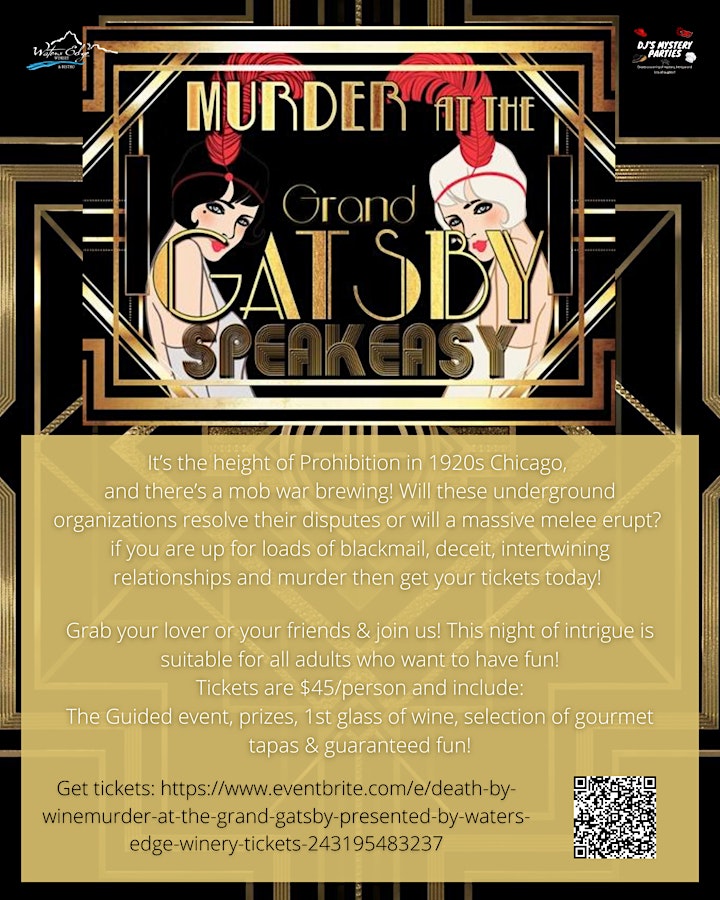 Related Events