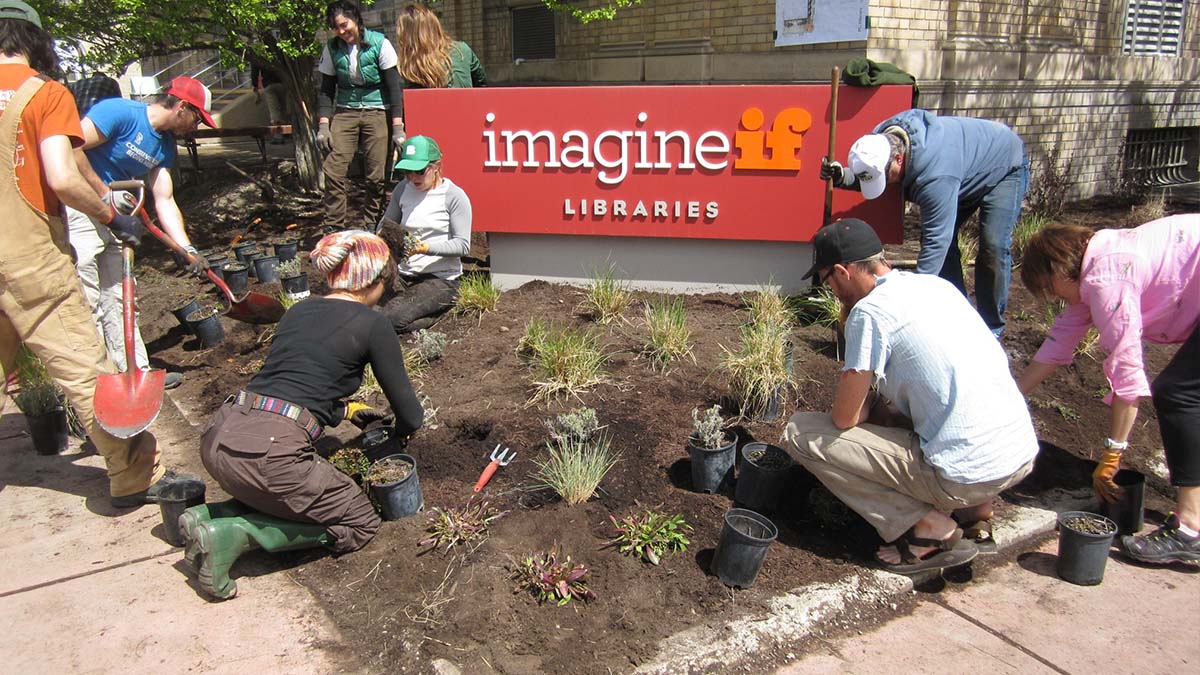 Do you enjoying planting? Do you have a little bit of time to volunteer to plant a native plant garden at the imagineIf Kalispell Library. The landscaping around the Kalispell Library will be transformed into a Native Plant Garden featuring sixteen plant species native to Flathead County. The garden will provide opportunities for the community to explore local biodiversity, science and nature for years to come.
We need volunteers to help us install a Native Plant Garden at our Kalispell location. Help with weeding and plant removal, spreading soil and fertilizers, leaf compost collection, planting, and spreading mulch.

Plant Native Plant Garden – Volunteer Dates & Times
Dates and times are listed below:
• Planting: Sunday June 12 from 1-4pm
• Planting: Friday June 17 from 1-4pm
• Spreading mulch: Saturday June 25 from 8:30 – 10:30am
Kalispell Library Information:
Address
247 1st Avenue East
Kalispell, MT 59901
Phone
Library Director
Ashley Cummins
Hours
Mon-Fri, 10am-6pm
Sat, 10am-5pm
Are you in the Buzz?
406.Buzz is your best resource for the latest events happening around the Montana Flathead Valley area. From Kalispell and Whitefish to Eureka and Columbia Falls, we've got the hottest events, best outdoor activities, restaurant lists, and so much more.  From farmers' markets and breweries to festivals, music events and family fun entertainment, we know all the buzz happening around town.
Whether you are a local or a visitor, we have all the insider information on the best places to check out every day of the week. Check out our  Events Calendar – HERE –  and get in the buzz!