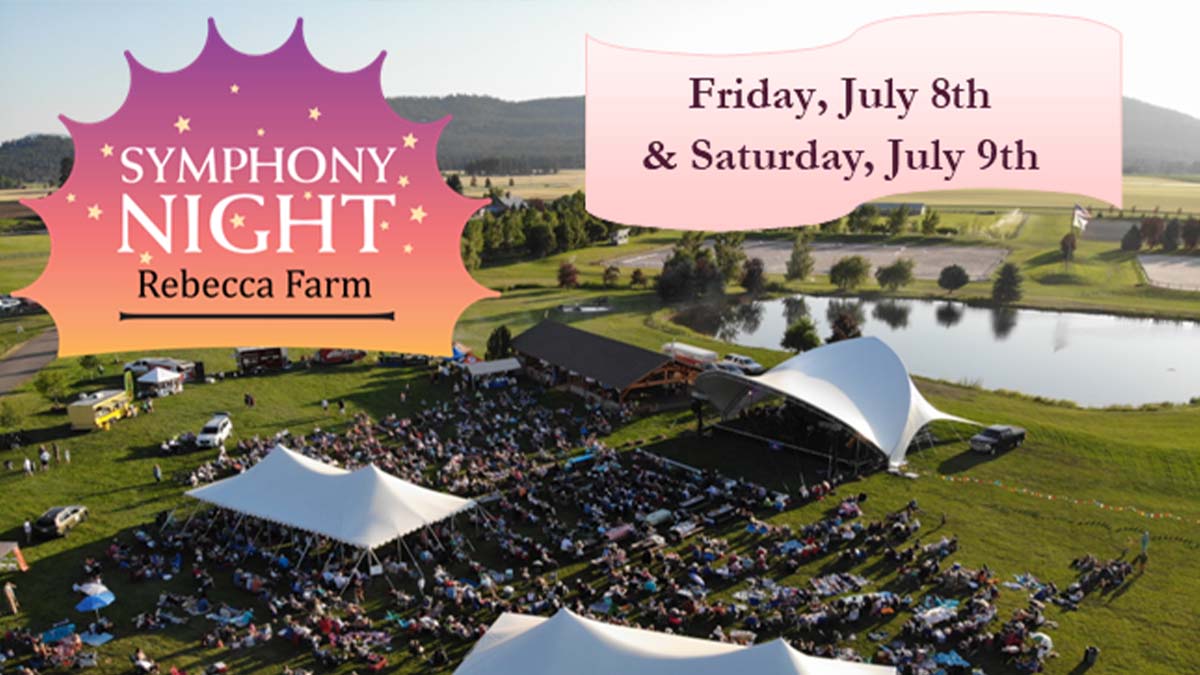 Do you want to enjoy something magical? Then you should plan on attending the 2022 Symphony Night at Rebecca Farm on July 8 and/or July 9, 2022. The theme for the evening is Movie Music Magic. "Symphony Night at Rebecca Farm" will feature cinematic compositions from iconic Hollywood films including James Bond 007, The Lord of the Rings, Jurassic Park, Star Wars, West Side Story and more!
"Our annual outdoor Pops concert held rain or shine under the big sky! Fun for the entire family! This year featuring music from some of your favorite film scores!"

2022 Symphony Night at Rebecca Farm Details
2022 Symphony Night Price:
General Seating l all green areas l ($51.00 – $61.00)
Family Tables ($271.00)
Open Air Left ($446.00 – $546.00)
Open Air Right ($446.00 – $546.00)
Under Tent ($446.00 – $546.00)
YOUR CAR PASS (ticket) is good for entry to the Festival on Friday, July 8, 2022.
Please have available on ON DASHBOARD or ON DEVICE TO SHOW AT THE GATE**
Our annual outdoor Pops concert held rain or shine under the big sky!
Music from 2001, A Space Odyssey; James Bond 007; Gladiator; The Man of Steel; The Lord of the Rings; The Cowboys; Hook; Jurassic Park; E.T. The Extraterrestrial; Star Wars; West Side Story and more! Bring a picnic dinner, a bottle of wine, and a couple of camp chairs to enjoy the music and the scenery!
"Buy Early" – $55/per car load (includes entry & concert) through June 30th! after – GATE SALES ONLY $65- or BIKE IN – PAY $5
Carload Pass, 1 – carload = NOT a per person charge – PACK THE CAR with people. Note: Carload seating is not assigned.PICNIC TABLES Open air $450/Under the tent $550 and $275/Family area (back of field)
** TICKET IS CONSIDERED Car Pass for Entry **
Food and Beverage vendors: Glacier Gourmet, Norms News, S&M Taco, Antonio's Pizza – *Rebel Roots (*Friday only)
Gates open 5:30 pm, concert begins 7:30 pm
RAIN OR SHINE
For tickets and information, visit www.gscmusic.org or call (406) 407-7000.
No dogs or pets, please. Please be advised that the walk from the parking area to the seating area can be some distance. Assistance is available, however coolers with wheels and carts/wagons to haul your gear is recommended. Those with limited mobility or in wheel chairs can receive rides or assistance upon request.
About Glacier Symphony: The Glacier Symphony, Orchestra and Chorale has its roots in the 1970's when the Performing Arts Council was formed from a core of music lovers in the Flathead Valley. The Council sponsored recitals and summer concerts in the Valley and later formed The Hockaday Chamber Orchestra, which performed a series of concerts. Glacier Symphony members of this early group included Doug James, Lindy James, and Shauneen and Ray Garner. Learn more – https://glaciersymphony.org/about-2/
Are you in the Buzz?
406.Buzz is your best resource for the latest events happening around the Montana Flathead Valley area. From Kalispell and Whitefish to Eureka and Columbia Falls, we've got the hottest events, best outdoor activities, restaurant lists, and so much more. From farmers' markets and breweries to festivals, music events and family fun entertainment, we know all the buzz happening around town.
Whether you are a local or a visitor, we have all the insider information on the best places to check out every day of the week. Check out our Events Calendar – HERE – and get in the buzz!