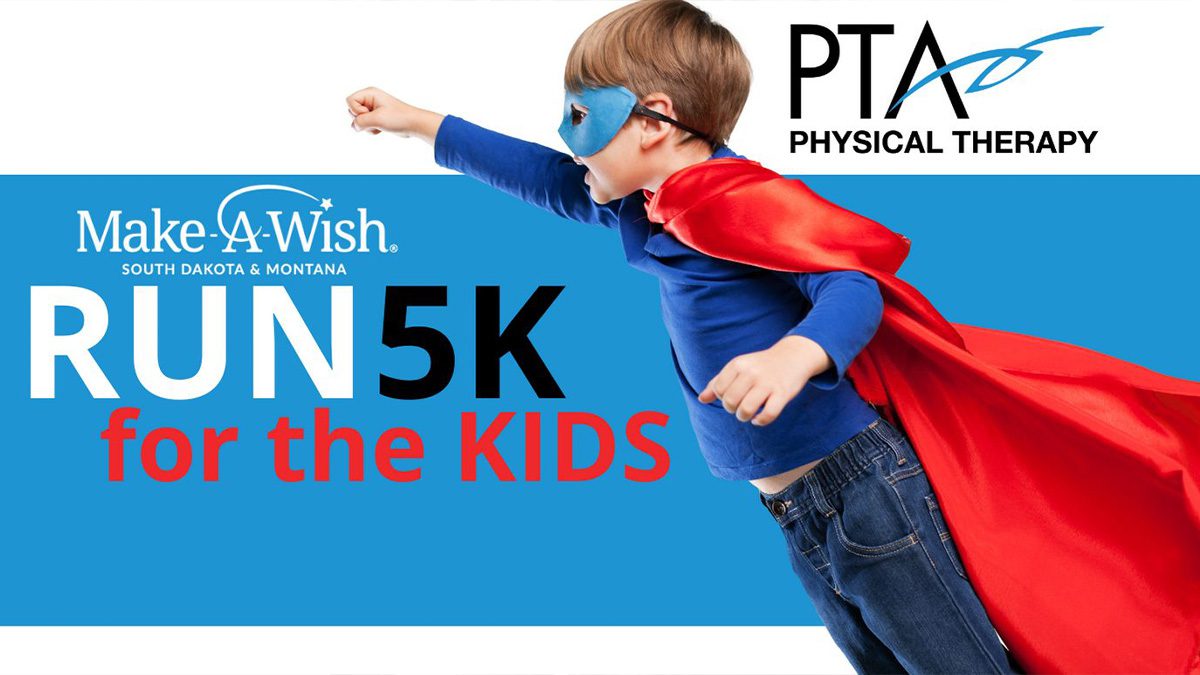 On Your Marks! Get Set! Go! The Make A Wish Foundation's 5k for the Kids will take place at the PTA Physical Therapy Clinic on Whitefish State Road in Kalispell, Montana, on Saturday, May 14, 2022. The event will be filled with family-friendly fun including a silent auction and a BBQ for participants. This race will not be chip timed, it's a fun run to raise money for the kids! All proceeds will go to the Make a Wish Foundation.
All are welcome to participate, bring your most comfy shoes and strollers. This is a fun run to raise money for the kids! All proceeds will go to the Make a Wish Foundation.

5k for the Kids Details
Saturday, May 14, 2022
10:30am-1:00pm
105 Village Loop, Kalispell, MT 59901
Cost: $35
Sign up – HERE.
Did you know that there is a silent auction? To view the most up to date list of silent auction items visit https://www.32auctions.com/PTA5k2022
5k for the Kids has a lot of wonderful sponsors including Spot to Talk, Corwin, Shield Arms, Applied Materials, The Pilates Scene, Flathead Lake Brewing Co, Whitefish Mountain Resort, Flathead Electric Cooperative, Glacier Bank, Valley Bank, Farmers State Bank, Ceres Bakery, Halo Salon & Spa, World Gym, Montana Coffee Traders, Tamarack Brewing Company, The wave, Sherwin Williams, Sportsman & Ski Haus, Great Northern Dental Care, Glacier Raft Company, Larry's Fly & Supply, and Hold Stage Hideway, just to name a few. Learn more about how you can support and participate in this great event- click HERE – for more information.
Are you in the Buzz?
406.Buzz is your best resource for the latest events happening around the Montana Flathead Valley area. From Kalispell and Whitefish to Eureka and Columbia Falls, we've got the hottest events, best outdoor activities, restaurant lists, and so much more.  From farmers' markets and breweries to festivals, music events and family fun entertainment, we know all the buzz happening around town.
Whether you are a local or a visitor, we have all the insider information on the best places to check out every day of the week. Check out our Events Calendar – HERE –  and get in the buzz!