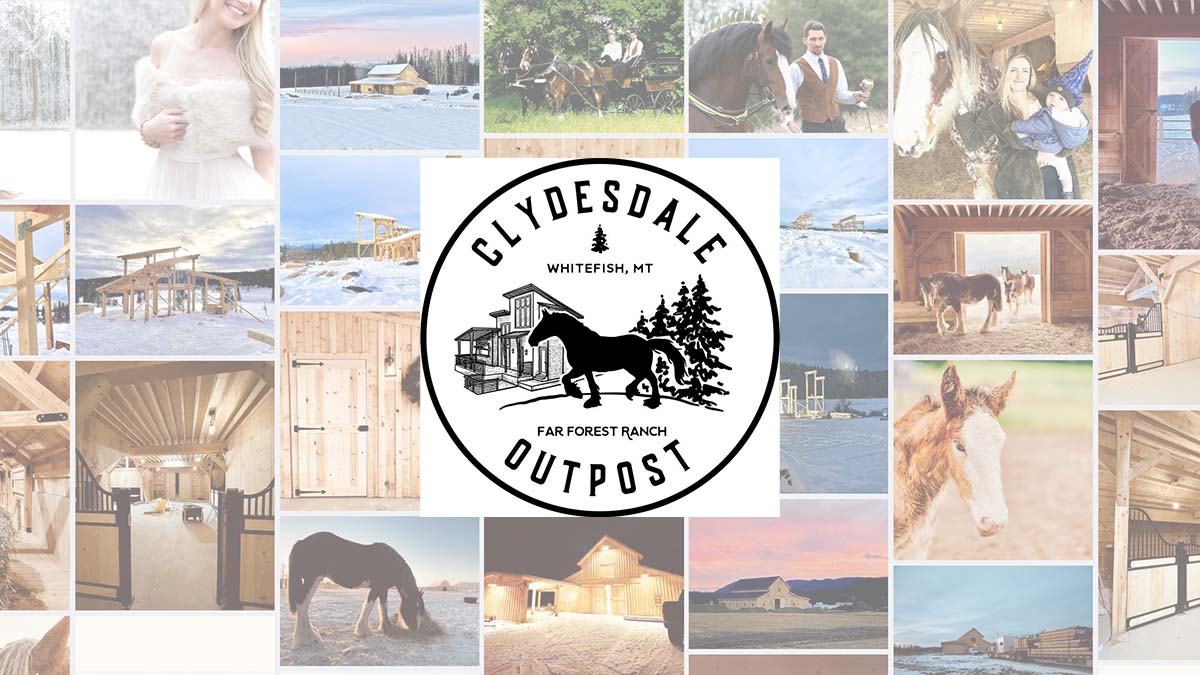 The Whitefish and Kalispell Chambers of Commerce welcome all to attend the in-person ribbon cutting event at Clydesdale Outpost Whitefish. Entertainment, Refreshments and so much more on June 2, 2022, from 3pm to 6pm. Guests will get the opportunity to not only meet the owners, but more importantly the beautiful Clydesdales.  Tours of the operation will be provided to guests.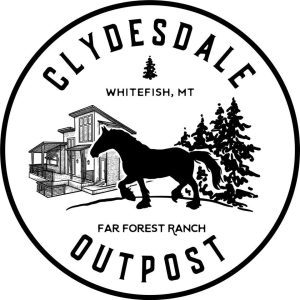 Clydesdale Outpost
The Clydesdale Outpost offers a variety of wonderful experiences for guests. The Clydesdale Outpost offers a beautiful boutique guest ranch experience in luxurious cabins. "Head over to the Check-in Center and enjoy traditional guest ranch activities including horseback riding and carriage rides with our majestic Clydesdale horses." Events like weddings, birthdays and more will be available starting in July 2022. And of course, there are a variety of wonderful horse activities that include horseback riding, carriage rides, and seasonal sleigh rides. Learn more – HERE. 
History of the Clydesdale Outpost
Benjamin and Matt Arnold-Ladensack have a long history of breeding Clydesdale bloodlines that goes back to 1995 when Benjamin Arnold and his father Karl Arnold bought their first horses: Princess, Dylan and Royal… all Shire horses. Over the decades, Benjamin has expanded his Clydesdale horse family and in 2013,  Benjamin Arnold met Matt Ladensack in 2013 and decided to immigrate to America when they were married. Together they began to build their dream of owning their own farm and continuing Far Forest's traditions in Washington State. They renovated a 100-year-old homestead, built a new barn and cabins at this Amboy, WA property. Benjamin and Matt sold their 8-acre ranch in 2021 and moved from in Amboy, Washington and to Whitefish, Montana in efforts to build out a larger Clydesdale Outpost. Learn more – HERE. 
"Here at Clydesdale Outpost our passion is breeding world-class Clydesdale Horses. The humble operation began in Fernwald, Germany (Fernwald means Far Forest in German) which has become our farm name, Far Forest Ranch."
​
The Clydesdale Outpost is located at 100 Outpost Drive Whitefish, Montana 59937. Learn more – HERE.
Are you in the Buzz?
406.Buzz is your best resource for the latest events happening around the Montana Flathead Valley area. From Kalispell and Whitefish to Eureka and Columbia Falls, we've got the hottest events, best outdoor activities, restaurant lists, and so much more. From farmers' markets and breweries to festivals, music events and family fun entertainment, we know all the buzz happening around town.
Whether you are a local or a visitor, we have all the insider information on the best places to check out every day of the week. Check out our Events Calendar – HERE – and get in the buzz!