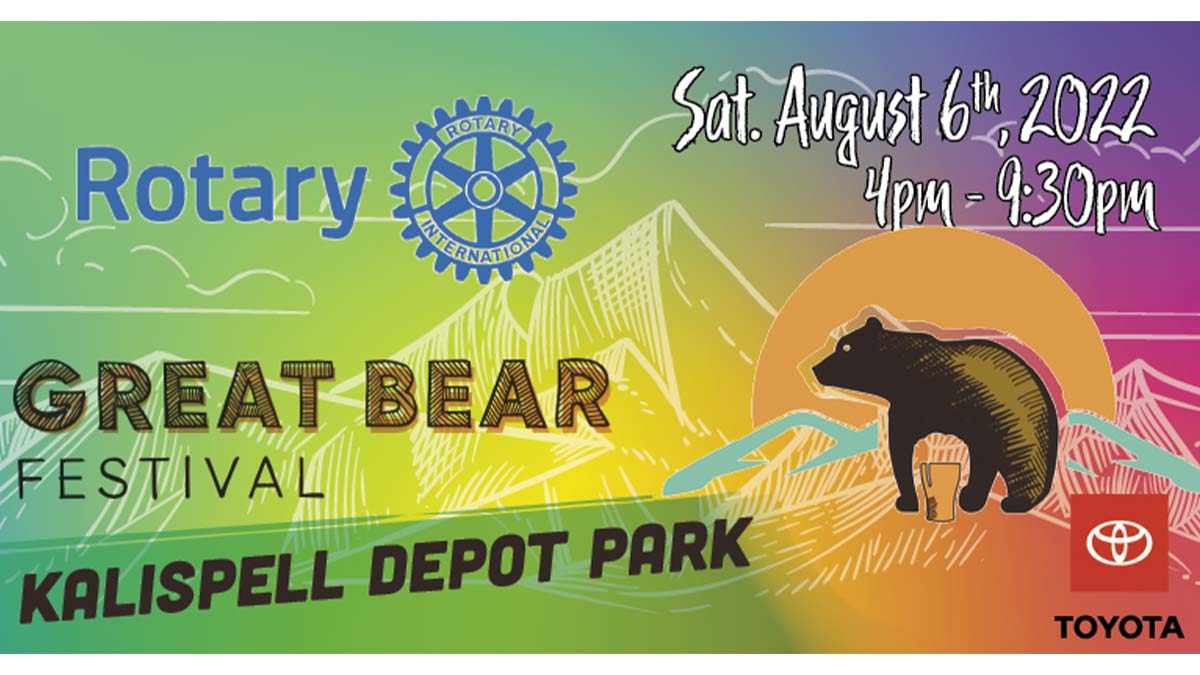 Come celebrate summer in the Flathead Valley at the Great Bear Festival 2022! Local Rotary groups are bringing in breweries and cideries from Montana and beyond to feature over 70 craft beers and ciders along with wine, local food, and live music. Get ready to have a lot of fun on Saturday, August 6, 2022 – from 4pm until 9:30pm
"When you raise a glass at Great Bear Festival, you're raising a glass to build communities! All proceeds are donated to projects that improve the quality of life for people here and across the world."

Great Bear Festival 2022
This year is the 5th annual Great Bear Festival and it just seems to get better every single year.
Local food vendors will also be on hand offering a variety of culinary delights such as 406 BBQ, Desoto Grill, The Corndog House, Fork Fusion, Sweet traditions, Salad2, The Osprey Cafe, NW Island Noodles, Knucklhed BBQ, and Copacabana Grill. Local bands, Chain Reaction and the Kenny James Miller Band, will entertain throughout the event. The Great Bear Festival will have something for everyone.
If enjoying a beautiful day and evening in downtown Kalispell wasn't enough, all proceeds from the Great Bear Festival will go to support local and international organizations. Both Rotary Clubs actively participate in creating a better community in the Flathead Valley and globally.
Some of the great sponsors of this event include Toyota, Home Loans Bay Equity Montana, Desoto Grill, Red Lion Hotels, Three Rivers Bank, First Montana Bank, Fun Beverage and MontaVino…just to name a few.
Are you in the Buzz?
406.Buzz is your best resource for the latest events happening around the Montana Flathead Valley area. From Kalispell and Whitefish to Eureka and Columbia Falls, we've got the hottest events, best outdoor activities, restaurant lists, and so much more. From farmers' markets and breweries to festivals, music events and family fun entertainment, we know all the buzz happening around town.
Whether you are a local or a visitor, we have all the insider information on the best places to check out every day of the week. Check out our Events Calendar – HERE – and get in the buzz!