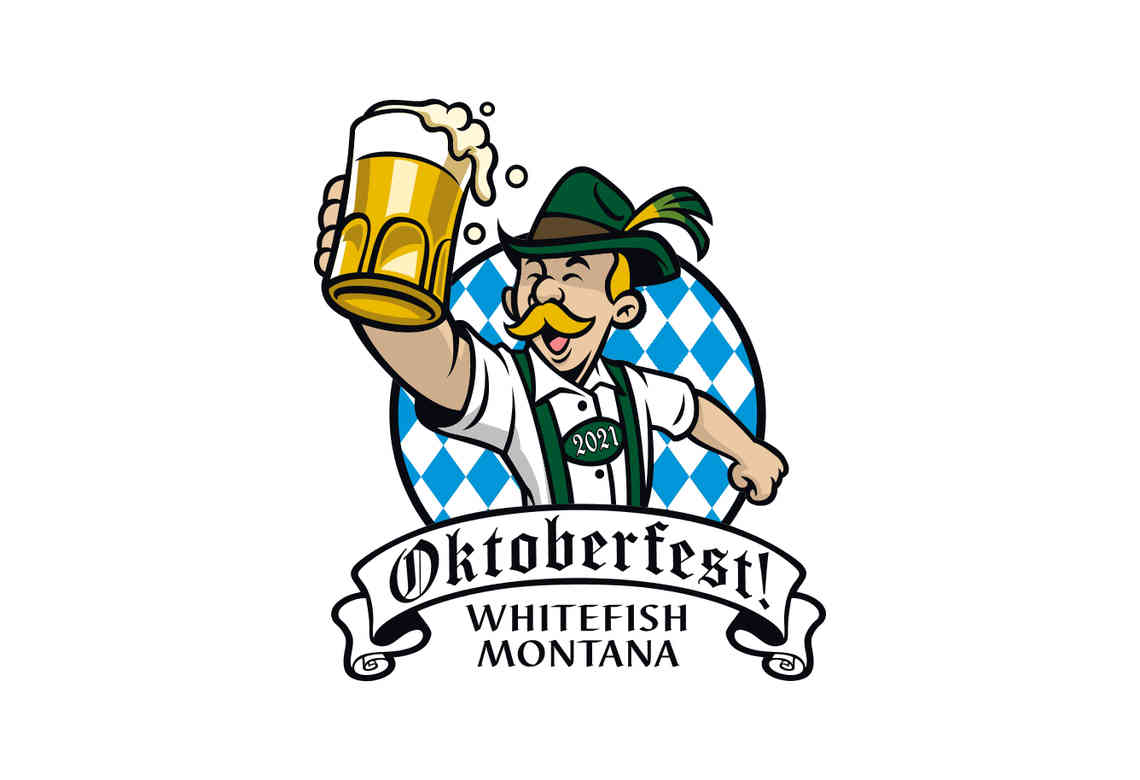 The Great Northwest Oktoberfest's back … and we're 'goin' to town!
The Great Northwest Oktoberfest is coming to town this September 23-25, 2021. This year's fest will take place at three unique Whitefish, Montana, watering holes – the Great Northern Bar & Grill, Casey's and the Montana Tap House. Each unique venue will host the wonderful Oktoberfest tradition on a specific date. 
"Oktoberfest may look a little bit different this year, but it's gonna be the real deal … great German food, beer. music and dancing, along with all of the usual Oktoberfest nonsense — stein-holding, log-sawing, chicken-dancing and the coronation of a new Hop." ~Chamber director Kevin Gartland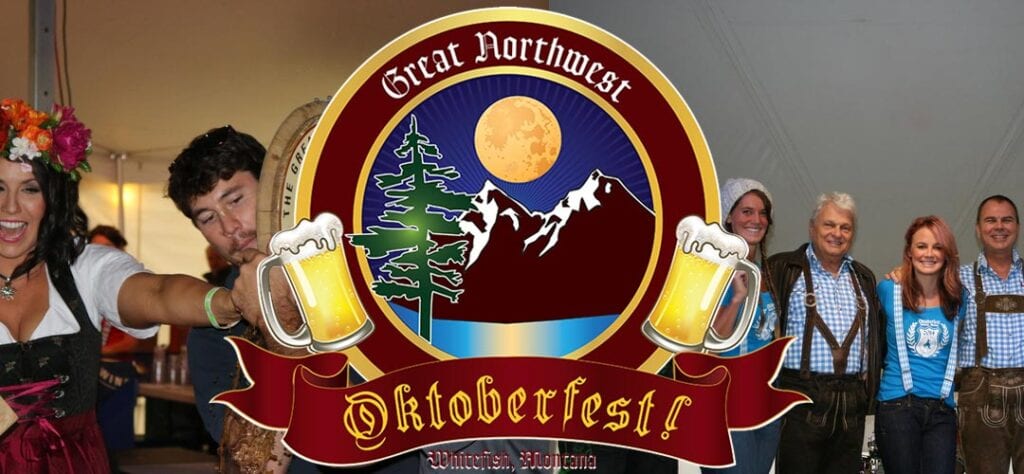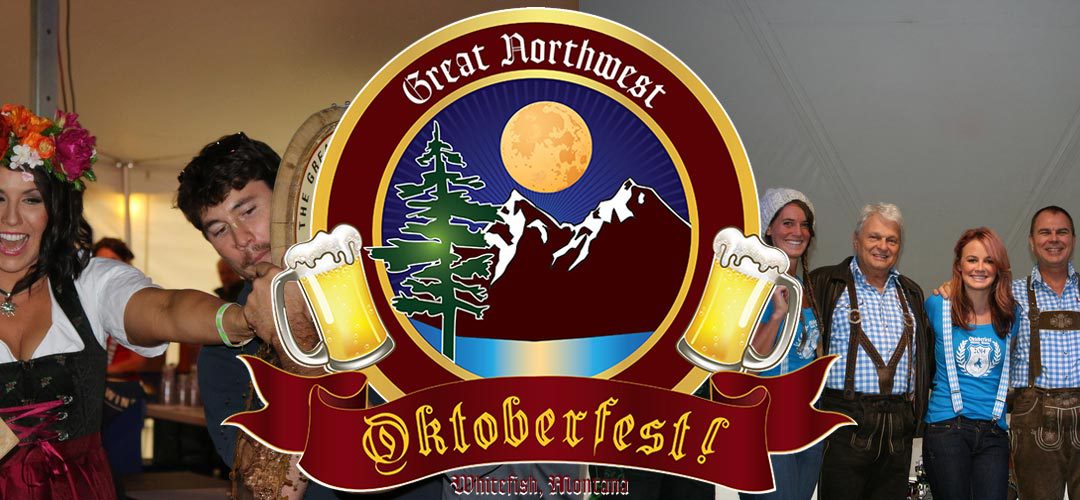 Great Northwest Oktoberfest
Thursday, Sept 23rd is "Locals Night" — Bring an ID that shows you're a Flathead Valley resident and you 'll get your first Hofbrau draft or Bayern brew free! It's our Opening Night celebration … at The Northern!
Friday, Sept. 24 is the "Hop Queen Qualifier" — This year's Hop Queen candidates will take to the stage (and dancefloor) at Casey's to make their case for winning the 2021 crown!
Saturday, Sept. 25 is "Family Day" — Kids 12 and under (with parents) get in free for a full afternoon of festivities outdoors in the Montana Tap House Beer Garden
Music
It isn't Oktoberfest with out polkas, oom-pahs & chicken dancing! Join us this fall for music by one of America's most popular Oktoberfest bands … and traditional German schuhplattler dancers as well:
The Europa Band
One of the top Oktoberfest bands in the country — Europa — is back by popular demand for their ninth year, providing authentic Oktoberfest music like no other! John, Milan and Adam travel coast-to-coast each Fall playing at Oktoberfests from Montana to Florida and back again, cranking-out the oom-pah, polka and waltzes … along with a bit of country, gypsy fiddle and Carlos Santana!
Europa takes the stage from 5:30-11 p.m. on Thursday and Friday nights at Oktoberfest, and from 1-7 p.m. on Saturday. Check out the band and their music at: http://www.theeuropaband.com/
Schuhplattler Gruppe Alpenrose
New this year to Whitefish — but not to Oktoberfest — will be performances by Schuhplattler Gruppe Alpenrose, a traditional German folk dance troupe from Casselberry, Florida! Schuhplattler dancing features ornately-dressed performers stomping, clapping and slapping their shoes, thighs and knees in what Wikipedia calls "choreographed horseplay." Two performances per night, the first weekend of Oktoberfest (Sept. 23-25 only).
MIA … The Western Senators
Much to our dismay, our original Oktoberfest Band — the Western Senators — are still being held hostage by COVID-19, and can't make their way through the closed Canadian border to get here from Saskatchewan. We're hoping they'll be back with us is 2022; for info on the Western Senators go to: http://www.westernsenators.com/.
Food
This year's Oktoberfest Grille will feature a variety of great German specialties. The menu is still being finalized, but here's what we served-up in 2019, just to get your mouth watering:
Platters:
Hendle-Chicken
1/2 a savory rubbed rotisserie roasted chicken – a German Oktoberfest tradition!
Wurstplatte
Locally handmade Flathead raised Elk, German & traditional beer style bratwursts platter.
Kassler Rippchen
Authentic German style brined and smoked pork loin platter.
Bratwurst, Sandwiches, Soups & Sides:
Traditional Beer Bratwurst
¼ lb. locally handmade pork bratwurst piled high with sauerkraut
Smoked Elk Bratwurst
¼ lb. locally handmade Flathead raised elk and pork bratwurst piled high with sauerkraut
Schinken-Sandwich
Black forest ham, Sauerkraut & Munster cheese on a pretzel roll
Soups
Beer Cheese & German Potato Soups
Individual sides
– Sauerkraut or sweet & sour kraut
– German potato salad
– Sweet sauteed apples
Kids Menu
Hot Dog with Mac & Cheese
Two of kid's favorite on one plate!
Beer
It isn't Oktoberfest without beer, beer and more beer! This year we'll be serving-up your favorite flavor's from Hofbrau — the original Munich Oktoberfest bier — as well as variety of brews by our new Montana craft-brew sponsor, Bayern Brewing of Missoula!
Check back often for details on what'll be on tap for this year's fest!
Wine, seltzer, water, & soda will also be available for non-beer drinkers
Contests
There are tons of crazy contests to participate in or to just watch from the sidelines, cheering your favorite contestant on to victory! We'll have:
Stein holding (Mens' & Womens')
Log sawing (Mens' & Womens')
Kid's Chicken Dance Contests [Sat. Sept. 25 at 2:45pm]
There's no entry fee, and participants can sign up 1/2 hour before each contest at the table to the right of the Oktoberfest stage. (No sign up necessary for the Chicken Dance Contest.)
Special Competitions:
Sept. 24-25 — The 2021 Oktoberfest Hop Queen Pageant
Join us at Casey's on Friday, Sept. 24 from 6-8 p.m. for the "Hop Queen Qualifier," to meet the Hop Queen candidates and enjoy music by the Europa Band. Then be in the Beer Garden at the Montana Tap House on the final evening of Oktoberfest to see who gets crowned!
Sept. 25 — Men's and Ladies Stein-Holding Grand Championships
Be in front of the Main Stage at 7 p.m. sharp, when the top finishers from this year's stein-holding competitions square-off for the "Grand Championships," and a shot a winning a spot in next year's Hofbrau Stein-Holding National Championships in New York City!
Dates/Location
Thursday, September 23 — 5 to 11 pm @ The Great Northern Bar, 27 Central Avenue
Friday, September 24 — 5 to 11 pm @ Casey's Whitefish, 101 Central Avenue
Saturday, September 25 — 12 noon to 8 pm @ Montana Tap House, 845 Wisconsin Ave.
Tickets
Admission is $10 per day ($8 in advance). Advance sale tickets are available at the Whitefish Chamber of Commerce (505 E. Second Street), and at each of the clubs.
Thursday and Friday nights are 21+ ONLY events; ID will be required. Kids under 12 (accompanied by a parent) are free on Saturday afternoon at the Tap House.
Advance sale tickets are on sale starting September 14, 2021. Stop by the Whitefish Chamber and each of the clubs that are hosting the fest. You can expect for the tickets to sell out, so get them soon.