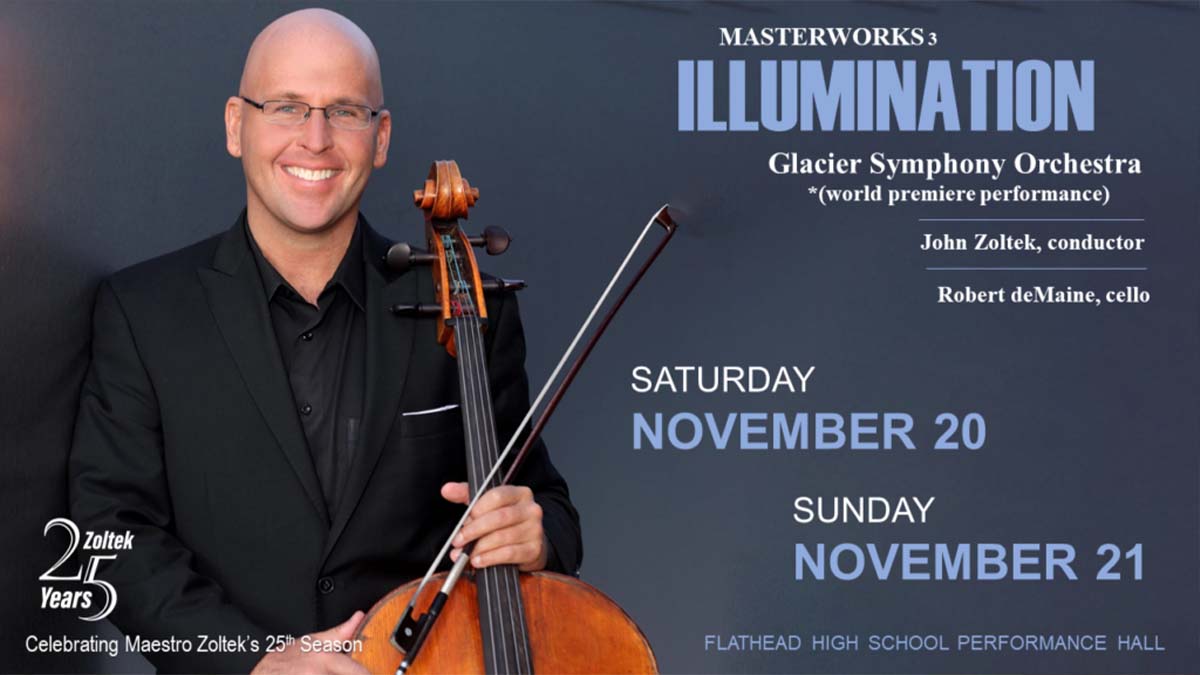 Illumination is part of a seminal concert event featuring the world premiere of Maestro Zoltek's brand new cello concerto entitled Through Tamarack and Pine*, composed especially for cellist extraordinaire Robert deMaine. The principal cellist of the Los Angeles Philharmonic, deMaine has been hailed by The New York Times as "an artist who makes one hang on every note." Also on the program is the Symphony No.3 in C Major by one of the Maestro's favorite composers, the Finnish master of evocative symphonic imagery, Jean Sibelius. The concert sill only take place on two nights – Saturday, November 20, 2021, and Sunday, November 21, 2021, at the Flathead High School Performance Hall. 
ILLUMINATION Details
Tickets for Illumination are range from $8-$41. Youth through grades 12 are free in tiers 2 and 3 at MasterWorks concerts. Get your Tickets – HERE. 
Glacier Symphony – John Zoltek, conductor
Robert deMaine, cello
Zoltek, Through Tamarack and Pine (deMaine)
Sibelius, Symphony No. 3
Youth through grade 12 FREE in tiers 2 & 3 at MasterWorks concerts
Flathead High Performance Hall - 644 4th Ave W, Kalispell
SATURDAY Concert Box Office opens at 6:00 pm, seating begins at 7:10 pm
OR
SUNDAY Concert Box Office open sat 1:30 pm, seating begins at 2:40 pm

Are you in the Buzz?
406.Buzz is your best resource for the latest events happening around the Montana Flathead Valley area. From Kalispell and Whitefish to Eureka and Columbia Falls, we've got the hottest events, best outdoor activities, restaurant lists, and so much more.  From farmers' markets and breweries to festivals, music events and family fun entertainment, we know all the buzz happening around town.
Whether you are a local or a visitor, we have all the insider information on the best places to check out every day of the week. Check out our  Events Calendar – HERE –  and get in the buzz!