Are you ready for a great comedy?
Now & Then is coming to the Whitefish Theatre Company. Now And Then is a touching comedy about love, regrets, and second chances.  The tickets are available October 14-16, October 17 and October 21-23, 202. Tickets start at $10. Tickets for individual performances are available on–line or at the box office.
About Now and Then
Sometimes what happens after last call just might change your life. One night in 1981, just as Jamie is closing the bar where he works, a desperate last-minute customer offers him and his girlfriend Abby two thousand dollars to sit and have a drink with him. Who wouldn't take it? As the trio swaps stories and Jamie considers the decisions he faces about his musical career and his future with Abby, the young couple begins to realize that this older man is unusually invested in their choices… and the reason he gives them is completely unbelievable. But when a very displeased second stranger arrives, the unbelievable begins to look like it just might be true. Now and Then is a heartfelt romantic comedy about the costs of the choices we make, and the people who make them with us. Cast members include Hunter Carvey as Jamie, Brooklynn Pitts as Abby, CrisMarie Campbell as Woman, and Tony Hernandez as Man.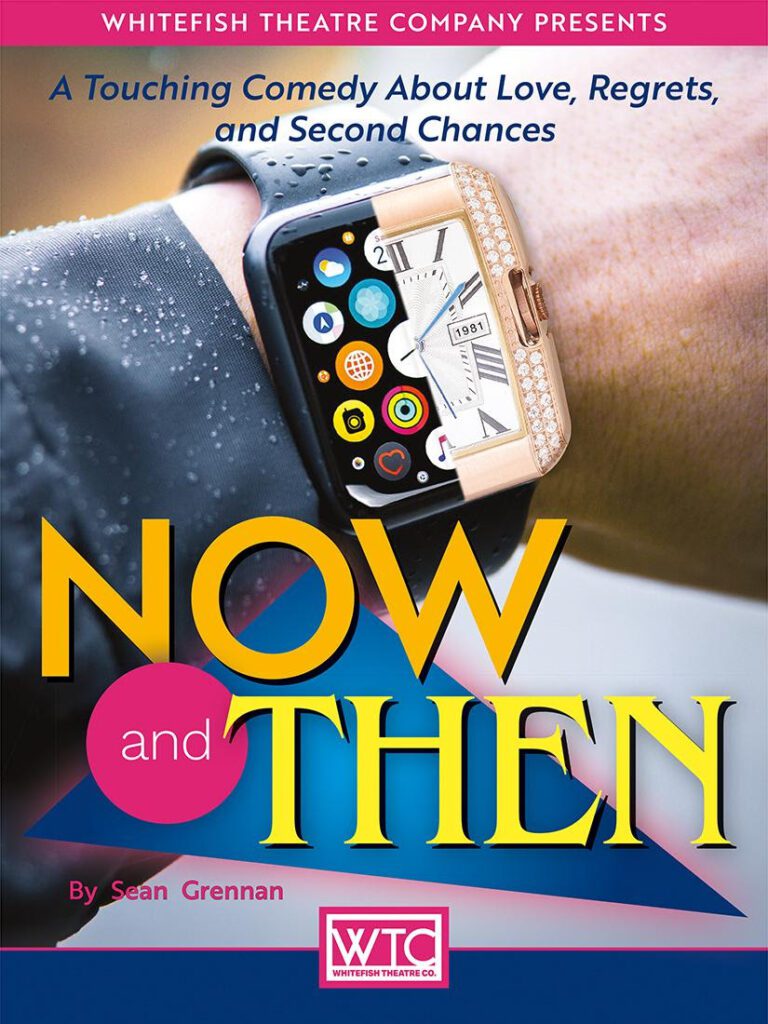 Now And Then Details
SHOW DATES:
October 15, 16, 21, 22 and 23 at 7:30pm, October 17 at 4:00pm
PREVIEW NIGHT:
October 14 at 7:30pm
TICKETS:
$20 adults, $18 seniors, and $10 students.
Preview Night tickets are $12 adults, $10 students.
Tickets can be purchased at the Box Office at 1 Central Avenue in Whitefish or by calling 862-5371. Box Office Hours are 11:00am to 3:00pm Monday through Friday and one hour before a performance.
FROM DIRECTOR NICK RAPP:
Love has a vast power. And in that special way that plays can tell a story, Now and Then gives us the opportunity to reflect on how and why love can thrive or decay. Language and communication are at the center of this play – how we speak to each other, how we express our love, and within that, how we express our needs and wants. It is not uncommon that with those for whom we share the deepest love, we also assume the gravest responsibility to ensure that their future blooms brighter by the aid of our participation. How enlivening! How richly exciting! How painfully stressful!
Are you in the Buzz?
406.Buzz is your best resource for the latest events happening around the Montana Flathead Valley area. From Kalispell and Whitefish to Eureka and Columbia Falls, we've got the hottest events, best outdoor activities, restaurant lists, and so much more.  From farmers' markets and breweries to festivals, music events and family fun entertainment, we know all the buzz happening around town.
Whether you are a local or a visitor, we have all the insider information on the best places to check out every day of the week. Check out our  Events Calendar – HERE –  and get in the buzz!