Do you like Beer? How about a festival featuring four local breweries? Get ready for some fun Saturday, August 13, 2022, from noon until pm at the Polson Brew Fest. This festival is hosted by the Polson Rotary and features four local breweries: Glacier Brewing Co, Ronan Co-Op, Tamarack, and Flathead Brewing. Plus, all proceeds from this festival go to Baseball, Cheerleading, Swim Lessons, and Girls and Boys Youth Wresting. Oh…Did we mention that the event is FREE to attend?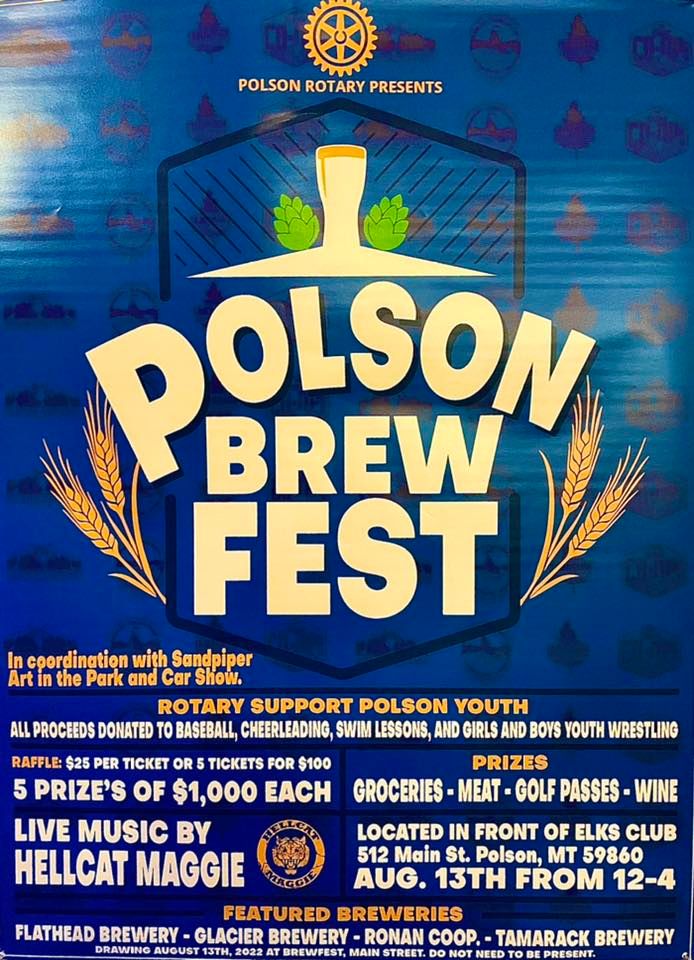 Polson Brew Fest Details
August 13, 2002 – noon-4pm
Location: In Front Of Elks Club 512 Main Street (Polson)
Free Event
The Brew Fest is taking place in coordination with the Sandpiper Art in the Park and Car Show.  There will be live music by Hellcat Maggie, Raffles and lots of great prizes to win. While you are enjoying your Beer or Beer Tasting, $25 Raffle tickets will be available where you could win 5 prizes of $1000 each, groceries, meat, golf passes and wine. What a great deal for a great community cause – Polson Youth Activities! Learn more – HERE.
Are you in the Buzz?
406.Buzz is your best resource for the latest events happening around the Montana Flathead Valley area. From Kalispell and Whitefish to Eureka and Columbia Falls, we've got the hottest events, best outdoor activities, restaurant lists, and so much more.  From farmers' markets and breweries to festivals, music events and family fun entertainment, we know all the buzz happening around town.
Whether you are a local or a visitor, we have all the insider information on the best places to check out every day of the week. Check out our  Events Calendar – HERE –  and get in the buzz!