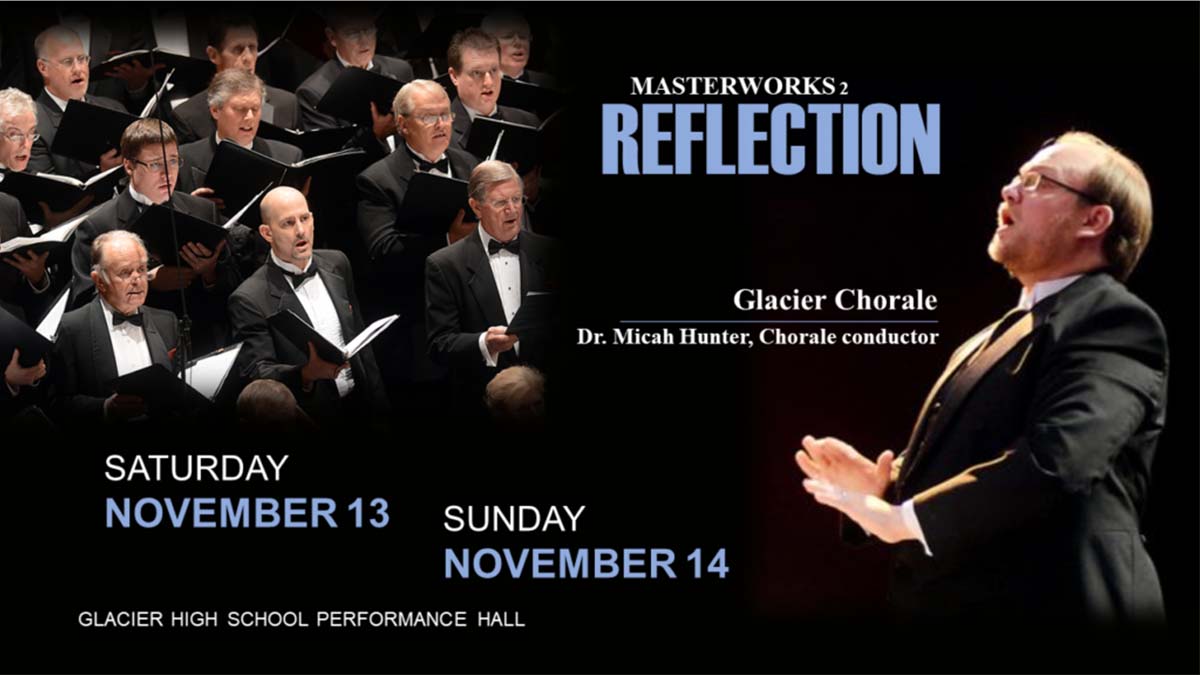 The Glacier Chorale, led by conductor Dr. Micah Hunter, presents a concert of choral music spanning many centuries and styles. "In this, our first presentation of the full Chorale in concert since December of 2019, we will "reflect" on our past by presenting music we have performed within recent memory. Music by James Mulholland, Edward Elgar, and Vijay Singh will call to mind memories of recent years."
There will be two performances available for guests to attend. The first performance will take place on Saturday, November 13, 2021, at 7:30pm, and the second will be on Sunday, November 14, 2021, at 3pm. The concerts will take place at Glacier High School located at 375 Wolfpack Way in Kalispell, Montana.
Music by living composers Paul Ayres and Marshall Jones (a member of the Glacier Chorale), and Maestro Zoltek will present us with new challenges and beautiful aesthetic experiences. Additional music new to the Chorale will be classic works spanning the common practice era by Alexander Gretchaninoff, Palestrina, Robert Shaw, David N. Childs, and Moses Hogan.
Get your tickets – HERE.
About "Reflection" MasterWorks 2 & Glacier Symphony
The Glacier Symphony, Orchestra and Chorale, is one of the most active performing arts organizations in the inner-mountain northwest. Located in Montana's beautiful Flathead Valley, the symphony produces a yearly Masterworks season of subscription concerts, educational programming for area schools, the family-friendly outdoor Symphony Night at Rebecca Farm, exclusive special events, and the region's only weeklong classical music series, Festival Amadeus. Join us as we explore the finest in classical music! Learn more – HERE.
Are you in the Buzz?
406.Buzz is your best resource for the latest events happening around the Montana Flathead Valley area. From Kalispell and Whitefish to Eureka and Columbia Falls, we've got the hottest events, best outdoor activities, restaurant lists, and so much more. From farmers' markets and breweries to festivals, music events and family fun entertainment, we know all the buzz happening around town.
Whether you are a local or a visitor, we have all the insider information on the best places to check out every day of the week. Check out our Events Calendar – HERE – and get in the buzz!