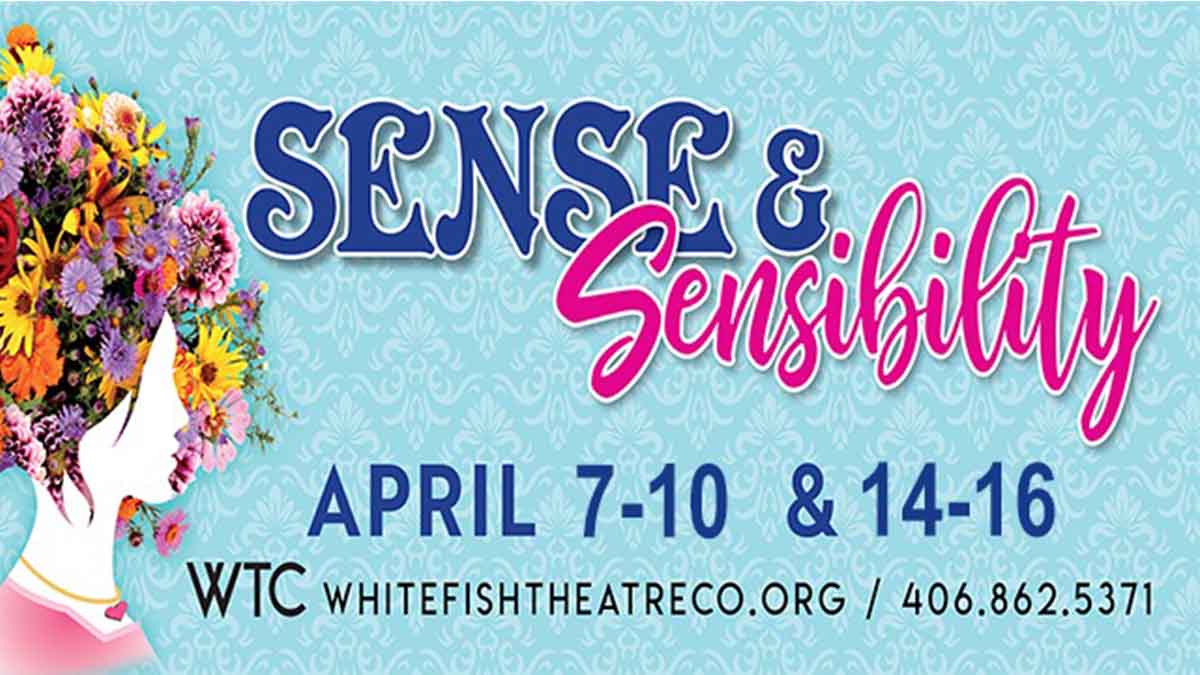 There is still time to get your tickets to the Sense and Sensibility Whitefish Theatre Co production. Only 3 shows remain of Sense and Sensibility, Kate Hamill's exuberant and theatrical adaptation of Jane Austen's perennial favorite. The Dashwood sisters – prudent Elinore and impulsive Marianne – find their world turned upside down after their father's death, which robs them of their wealth, social standing, and most importantly, chances for marriage. Mix in a few dashing love interests and a gaggle of gossipy socialites, the sisters must learn to mix sense with sensibility, their opposite temperaments, to find true happiness. Called "inventive, faithful, and clever", this marvelous play will delight Austen fans and novices alike.

Sense and Sensibility Details
DATES/TIMES: April 14, 15, and 16 at 7:30pm.
DIRECTOR: Nancy Nei
CAST: Jessica Henkelmann, Desiree Albonetti-Roberson, David Reese, Matt Strool, Dawn Watland, Andrew Matulionis, Scarlett Schindler, Annelise Mason, Scott Plotkin, Nicki Corne, Stuart Green, Jan Simpson, and Jessa Ash.
Get your tickets – HERE. 
DIRECTOR'S NOTES: NANCY NEI
Producing Sense and Sensibility has been a roller coaster ride for everyone involved as the set is like a giant puzzle of multiple scenes in a dozen locations. Multiple columns of varying sizes are assembled by the actors to become the furniture of various elegant rooms in palatial English houses, as well as the cottage the Dashwood sisters are forced to move to when their father dies. All of this adds to a very theatrical and playful version of this honored story that continues to touch on modern themes – how two young women who suffer misfortune and societal pressures find family, resilience and their personal voice.
Are you in the Buzz?
406.Buzz is your best resource for the latest events happening around the Montana Flathead Valley area. From Kalispell and Whitefish to Eureka and Columbia Falls, we've got the hottest events, best outdoor activities, restaurant lists, and so much more.  From farmers' markets and breweries to festivals, music events and family fun entertainment, we know all the buzz happening around town.
Whether you are a local or a visitor, we have all the insider information on the best places to check out every day of the week. Check out our  Events Calendar – HERE –  and get in the buzz!