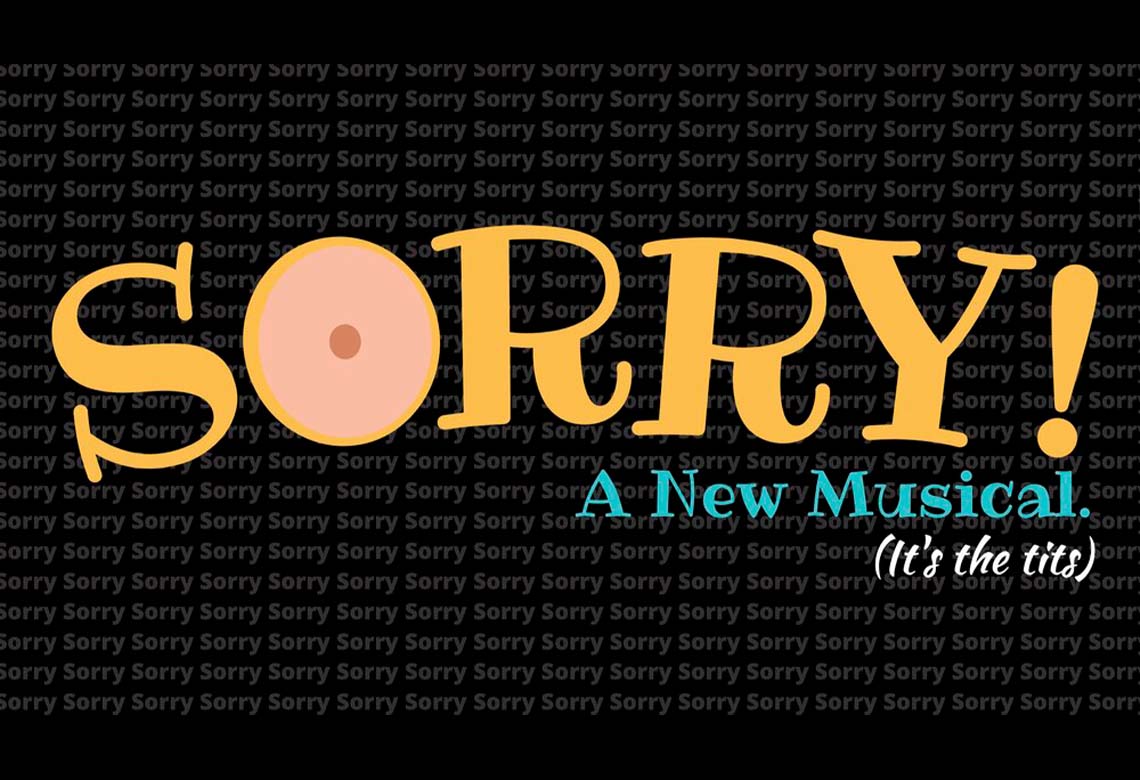 Are you ready for hilarity at its finest? Then, you must check out this brand new musical coming to the Alpine Theatre Project entitled Sorry! A New Musical (It's the Tits). Nope, that is not a misspelling……Whether you enjoy the typical theatre or not, this may be just the production for you. 
Let me set the scene for you…..
Set in corporate America, "Sorry" is a side-splitting and honest new musical about a young woman named Carly who wants only to be taken seriously at her job. In tandem with her best friend Angela, Carly navigates her struggles with discrimination, confidence, love, and knowing her worth. While confronting the stark realities of family-planning, Angela deals with an over-the-top mother, and also manages to meet a super hot gynecologist along the way. "Sorry" is a show that will have you in stitches while also bringing to light the challenges that many women (and men) face when striving for recognition and respect in a condescending world.
"Join us for a debaucherous & hilarious new musical about mansplaining, menstruation, dieting, dating, and, well, boobs." ~ Alpine Theatre Project

Sorry! A New Musical Details
This production was written by Grammy nominated multi-instrumentalist, Erica Von Kleist. The production information includes the following: Conceived by Erica Von Kleist, Music & Lyrics by Erica Von Kleist, book by Erica Von Kleist & David Blair, and Directed by David Blair.
NEW DATES & TIMES!
Friday, October 9 at 8pm
Saturday, October 10 at 2pm & 7pm
Location: 
Alpine Theatre Project at the Mountain Center
(formerly Mountain Cinemas)
6475 Hwy 93 S, Whitefish (parking in rear)
Tickets are $39-78 – Get your tickets – HERE. 
Wake Me When We Get There is part of ATP's 2021 Artist Challenge
6 Artists. 6 Weeks. Infinite Possibilities.
Alpine Theatre Project is proud to announce it is commissioning 6 performing artists to create what matters most to them right now. The Challenge: Create a performance work within 6 weeks on a limited budget and present it to the public. Any genre. Any format. No holds barred.
Are you in the Buzz?
406.Buzz is your best resource for the latest events happening around the Montana Flathead Valley area. From Kalispell and Whitefish to Eureka and Columbia Falls, we've got the hottest events, best outdoor activities, restaurant lists, and so much more.  From farmers' markets and breweries to festivals, music events and family fun entertainment, we know all the buzz happening around town.
Whether you are a local or a visitor, we have all the insider information on the best places to check out every day of the week. Check out our  Events Calendar – HERE –  and get in the buzz!