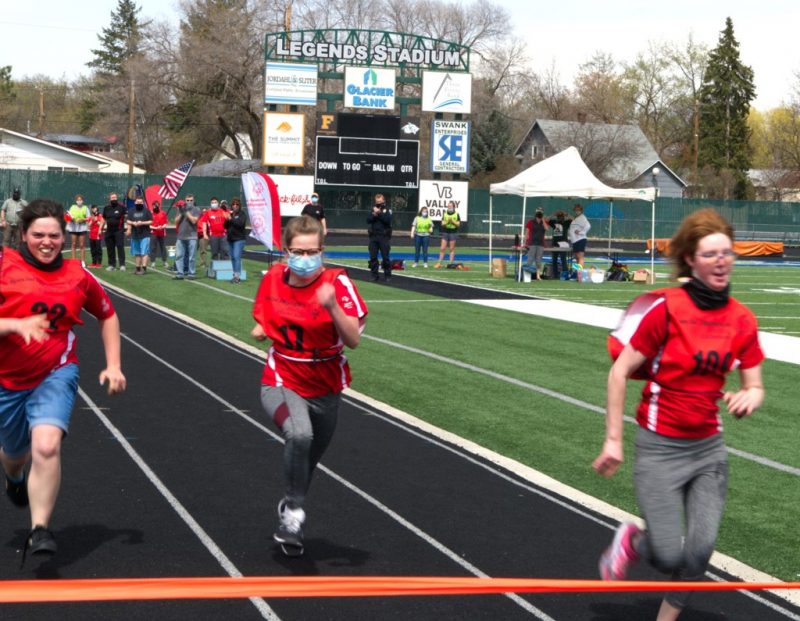 Get ready, Get set….and now we are off! The Special Olympics Community Picnic will take place on August 26, 2022, from 4:30pm until 8:00pm at Lawrence Park in Kalispell, Montana. The Glacier Area of Special Olympics Montana is hosting a community picnic to celebrate athletes and their families, volunteers and staff as well as provide an opportunity for others to learn about the program and get involved with the upcoming season of activities. Snacks, food trucks, games, a DJ playing music, and dancing, as well as a variety of related organizations and services sharing information, will be available.

Special Olympics Community Picnic Details
Families and anyone interested in participating in Special Olympics activities are encouraged to attend the picnic to meet current athletes and their families, coaches and program managers. Anyone interested in becoming a volunteer is also encouraged to attend the picnic. Volunteers are the backbone of the program as coaches, trainers, officials, event organizers, fundraisers, managers, and fans that cheer the athletes.
Special Olympics is a global movement that unleashes the human spirit every day around the world through the transformative power and joy of sport. Through programming in sports, health, education and community building, Special Olympics is tackling the inactivity, stigma, isolation and injustice that people with intellectual disabilities face. Learn more – HERE.
About Specials Olympics Montana
As Montana's largest sports organization for people with intellectual disabilities, Special Olympics provides year-round sports training and athletic competition in a variety of Olympic-type sports. These activities provide opportunities to develop physical fitness, demonstrate courage, experience joy and participate in a sharing of gifts, skills and friendship.
There are about 20 teams consisting of more than 275 athletes in the Glacier Area. There are also opportunities for community and leadership development programs.
The Special Olympics Montana Glacier Area includes the communities of Apgar, Big Arm, Big Mountain, Bigfork, Columbia Falls, Coram, Creston, Essex, Eureka, Fortine, Glacier National Park, Heron, Hot Springs, Hungry Horse, Kalispell, Kila, Lake McDonald, Libby, Lonepine, Marion, Martin City, Niarada, Noxon, Olney, Paradise, Perma, Plains, Polebridge, Proctor, Rexford, Rising Sun, Rollins, Somers, Stryker, Swan Lake, Thompson Falls, Trego, Trout Creek, Troy, West Glacier and Whitefish.
For more information about the picnic and participating or volunteering with Special Olympics contact Jacquie Simmons at jsimmons@somt.org or visit https://www.somt.org.
Are you in the Buzz?
406.Buzz is your best resource for the latest events happening around the Montana Flathead Valley area. From Kalispell and Whitefish to Eureka and Columbia Falls, we've got the hottest events, best outdoor activities, restaurant lists, and so much more.  From farmers' markets and breweries to festivals, music events and family fun entertainment, we know all the buzz happening around town.
Whether you are a local or a visitor, we have all the insider information on the best places to check out every day of the week. Check out our  Events Calendar – HERE –  and get in the buzz!