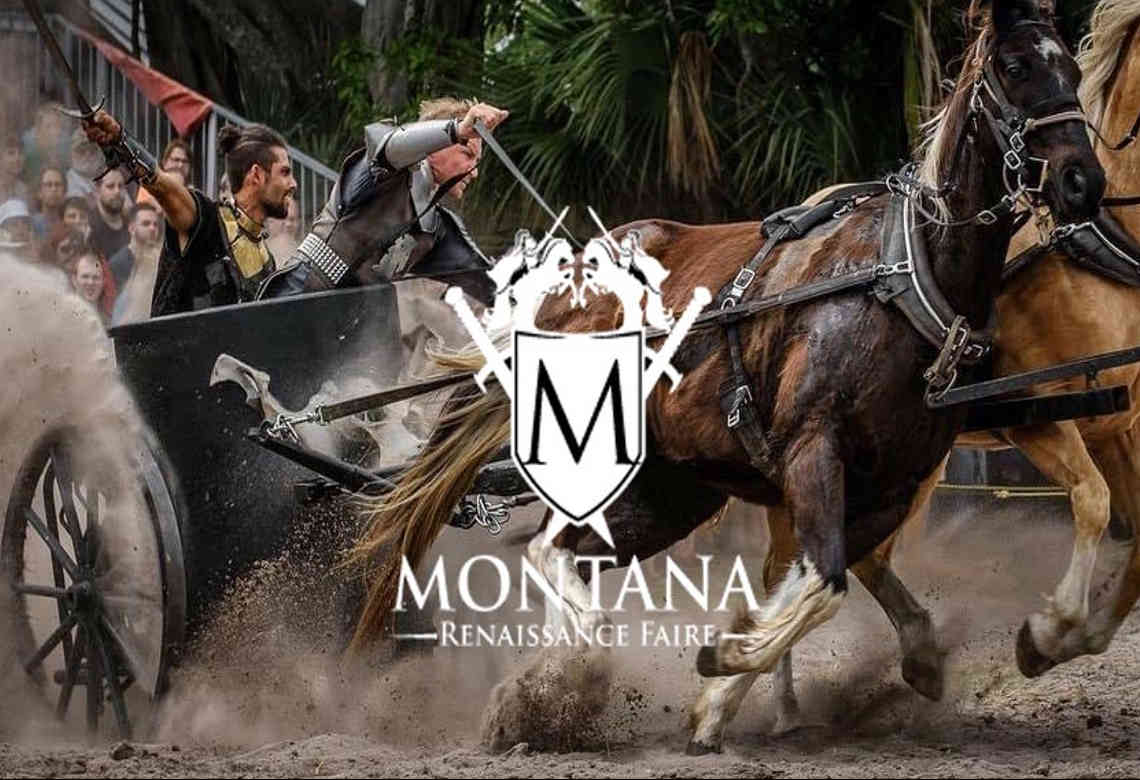 Are you ready for the first ever Montana Renaissance Faire?
Come one and all for two weekends of exciting tournaments, scrumptious feasts, & pure family fun at the Montana Renaissance Faire! Historic musical acts, non-stop entertainment, comedic characters, and a huge selection of authentic medieval games are just some of the fun entertainment that can be expected for this Montana Renaissance Faire.  Mark your calendars now for two weekends of fun – July 24-25 and July 30-August 1, 2021 – Rain or Shine 10am until 6pm at The Majestic Valley Arena located at 3630 US Highway 93 N, Kalispell, Montana. 
Patrons will enjoy an experience of a lifetime with high energy, real life battles, vivid raw horse to ground take downs, and the sheer excitement of a high speed joust. An action packed Hollywood worthy Tournament, the Dark Knights are truly the heavyweights of medieval warfare. FEEL the ferocity of thundering hooves rush the stage. Watch Knights in an epic battle, witness jousting, chariot racing, and ground combat! Enjoy comedic characters performing amazing stunts in a grand celebration. ~ Website
Montana Renaissance Faire Details
Get ready to indulge in medieval dining, libations and a shopping experience that will certainly delight everyone at all the Montana Renaissance Faire. There will be turkey legs, beer and even opportunities to meet "real" kings, queens, and knights. Tickets start at $15 and go up to $80 for a weekend family pass. 
Ticket Pricing:
ADULT DAY PASS: $25.00
CHILD DAY PASS: $15.00 (AGES 3-13)
ADULT WEEKEND PASS: $45.00
CHILD WEEKEND PASS: $25.00 (AGES 3-13)
PRIMITIVE CAMPING PASS: $20.00
(PER NIGHT- NO ELECTRICITY)
MODERN CAMPING PASS: $40.00
(PER NIGHT- ELECTRIC HOOKUP)
PARKING: $5.00 (PER DAY)
Get your Montana Renaissance Faire tickets – HERE. 
Camping:
Primitive and modern camping passes for each weekend are available at the Montana Renaissance Faire. "As for primitive camping explains itself, nothing fancy. Gather your family, friends, clan or club and join us for a one-of-a-kind camping experience. RVs, tents, and campers are welcomed! Be sure to select your camping pass when purchasing your faire ticket." Tickets for camping range from $20-$40. See more – HERE.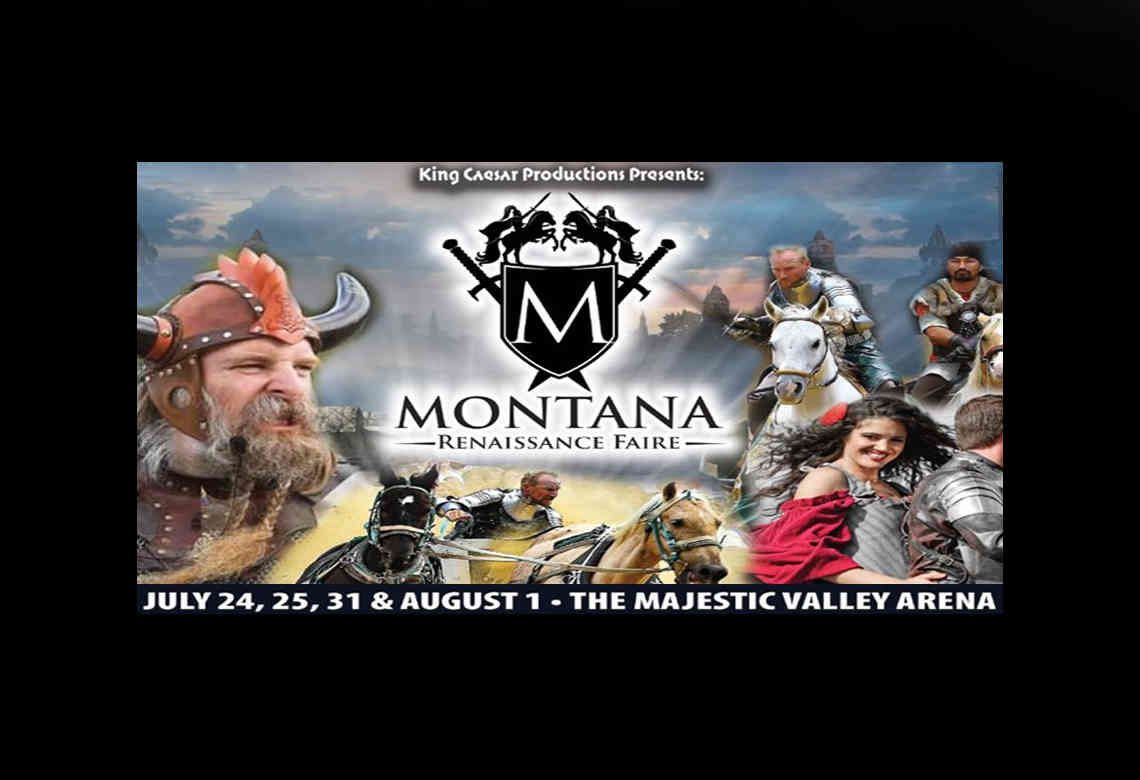 Entertainment:
The Baron of Treviso
Don Lorenzo The Baron of Treviso Will be on hand to welcome his Royal Majesty and all honored guests. He is our noble host it has prepared the Montana Renaissance Faire for the enjoyment of all.
Our King! Cosmo De Medici
Bongiorno! Come to the Montana renaissance Faire in celebration of the arrival of our King Cosmo De Medici! In honor of his first visit to our fair village of Treviso we have the finest entertainment and vendors. Welcome one and all!
Chariots
Chariots! Trick riding! Battlefield style Jousting!
A one of a kind out of this world jousting experience!
Salt Lake City Crusaders
The Salt Lake City Crusaders fight in real armor with real weapons with real consequences. Full Contact armored fighting at its best!
The Rogues
Houston's Often Imitated but Never Duplicated AWARD WINNING Celtic Band. Founded in Houston in 1994, The Rogues created a new genre of Celtic music with exceptionally well-played pipes and driving percussion and have become award-winning international artists. From Scottish Highland games to performing with a symphony orchestra, The Rogues deliver a commanding performance. The Rogues have performed in Las Vegas, Scotland, Greece, Guantanamo Bay Naval Base, Canada, several cruises and all over the United States. Usually performing with 2 pipers and 2 percussionists, our roster includes 12 top notch players from around the country. Members of the band have competed all over North America and Scotland, and won 1st place at the 1998 World Pipe Band Championships.
OPAL the Fairy
Opal is a whismical fae creature that spreads joy through the art of bubbles! Bashful, yet graceful she embodies childlike wonder. She invites kids, young and old alike to share in her bubbly splendor! Presenting them with a small sparkly gift, and speaking volumes not through words but expressive mannerisms! And of course bubbles! Trained in slight of hand, ASL, and whismy, Opal is sure to leave an enamored audience! Oh and did I mention, BUBBLES!?!
Thomas Wood, Pyro Juggler
Thomas Wood, the Pyro juggler has been making his living as a showman for the past 20 years perfecting his whimsical art form to the point where he can make a living at it. He started off learning juggling from a book worked on it for several years until he got to know every trick in the book.
Juggler, fire eater, comedian, adventurer.
Franceska the pirate
Children of all ages, mostly the small ones. We'll get a chance to battle Franceska the pirate and learn the art of swashbuckling and piracy in a kid friendly environment.
Songs of the nightingale
Songs of the Nightingale is all about the mystical magic of faeries, nature and finding the light within. The Nightingale reaches out to the hearts of children of all ages and invites them to find the bright side of the dark side Through ethereal poetry and song (original writing).
Connor O'Carraig, Magician
The worlds Tallest Leprechaun is excited to be joining us at the Montana Renaissance Faire! Connor O'Carraig has been a student of the Vanishing Arts for 20 years, and has been performing magic ALL OVER THE COUNTRY for the last 10 years! This silver tonged devil of Irish folklore is a master of sleight of hand and is armed with cunning wit, and hilarious jokes and stories! Don't miss his Comedy Magic Show at MRF 2021!
The Pride of Ireland
"Winner of the "Best Solo Musical Act" in the 2019 Renaissance Festival Awards, The Pride of Ireland strives to bring the mirth and magic of the Emerald Isle to Renaissance Faires and Festivals all over the country. Audience members are encouraged to join in the fun by shouting out requests, or drawing a card from the "Deck of Many Sings", ensuring that you will never hear the same set twice. Combining a rich musical repertoire of toe-tapping pub songs to ballads charged with emotion, with toasts, jokes, and stories; this wandering rogue will have audiences clapping their hands and raising their glasses."
The Maypole Man
GR Smith, the Maypole Man
He will teach an 8 ribbon Mayport Dance to the crowds, and pennywhistle them into twisty merriment! Interactive fun! But that's not all!
He will write an Elizabethan Sonnet on a big flip pad, with the Audience's interaction. Explaining the science and beauty of the form. (In under 10 minutes. Yes, it can be done. He has written thousands. It's a skill). Once every two hours (opposite Maypole Man)
Are you in the Buzz?
406.Buzz is your best resource for the latest events happening around the Montana Flathead Valley area. From Kalispell and Whitefish to Eureka and Columbia Falls, we've got the hottest events, best outdoor activities, restaurant lists, and so much more. From farmers' markets and breweries to festivals, music events and family fun entertainment, we know all the buzz happening around town.
Whether you are a local or a visitor, we have all the insider information on the best places to check out every day of the week. Check our calendar – HERE – and get in the buzz!