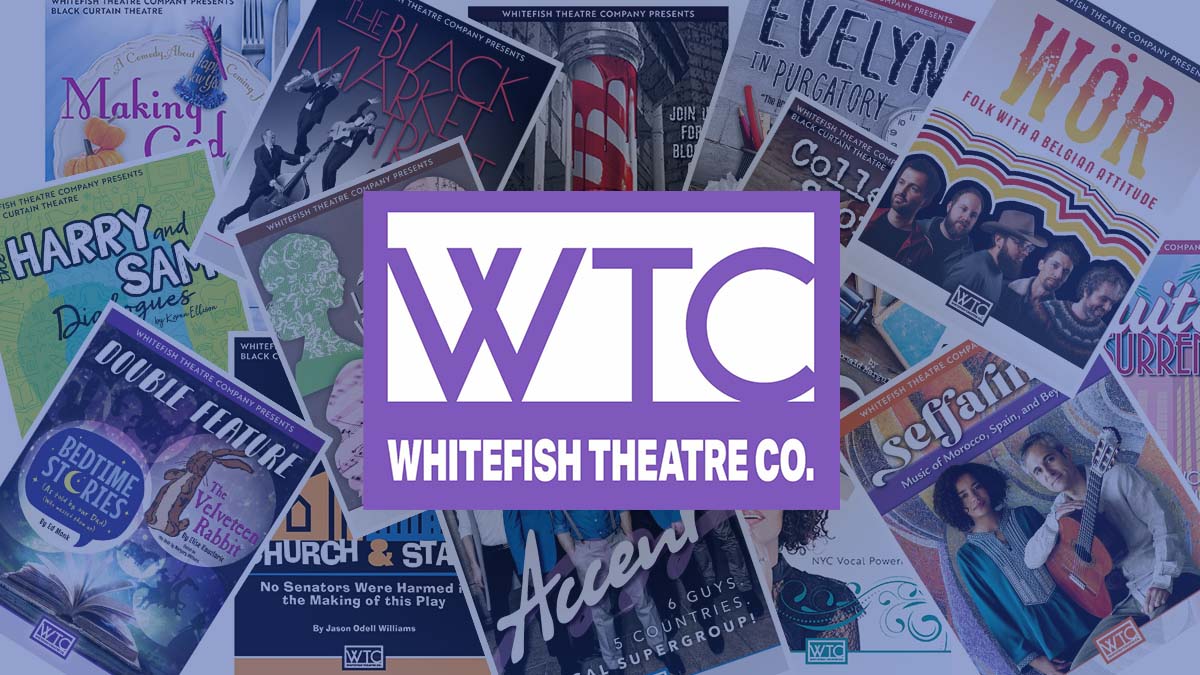 The Whitefish Theatre Company has just released the 2022-2023 season. With 14 shows, this season is diverse and inspiring, offering entertainment for everyone to enjoy. Some of the productions include Making God Laugh Shayna Steele, Sweeney Todd, WÖR, Church and State, Bedtime Stories and even Little Women. There is something for everyone and even every age. Whitefish Theatre Company Season Tickets start at $10 – See the Whitefish Theatre Company Season Brochure – HERE. 
"We are so excited to announce our new season. After a wonderful return to the stage this past year, we can't wait to thrill, surprise and delight you with a broad array of live theatre and music at the O'Shaughnessy Center." ~ Executive Director Jennifer Asebrook. 

Whitefish Theatre Company Season Details
Black Curtain theatre: September 10 and 11
As Woody Allen famously quipped, "If you want to make God laugh, tell him your plans". Such is the inspiration for the comedy Making God Laugh that follows a family over thirty years' worth of holidays. Starting in 1980, Ruthie and Bill's grown children – a priest, an aspiring actress, and a former star football player – all return home, where we learn of their plans and dreams as they embark on their adult lives. As the "empty nest" parents contend with their own changes too, we see how, despite what we might have in mind, families sometimes arrive at unexpected destinations.
Music:  September 24
With a voice that the London Jazz News says "unleashes enough voltage to light up the West End", Shayna Steele is a vocal force to be reckoned with. After spending nearly a decade on Broadway and as a background vocalist for artists such as Bette Midler, Rihanna, Kelly Clarkson, Moby and Steely Dan, Shayna released three of her own critically-acclaimed albums that showcase her supremely soulful energy and knockout vocals. Straight from NYC, Shayna will be backed by a five-piece band for this stupendous night of originals, R&B favorites, and jazz and blues standards!
Musical theatre: October 20-23 and 27-30
Sweeney Todd has captivated audiences around the world with its murderous melodies and a haunting tale of love, revenge and hilarious mayhem. The eight-time Tony Award-winning musical with lyrics and score by Stephen Sondheim, Sweeney Todd tells the story of the masterful barber as he returns to London to take his revenge against the corrupt judge who destroyed his life. In his vigilante quest, he meets the cheerfully amoral pie shop owner Mrs. Lovett, who soon becomes an accomplice in his deadly schemes. Together, they sing their way through murder and mischief in this morbidly funny musical that promises to be a tasty, thrilling and theatrical treat!
Music: November 10
Almost 300 years ago, musicians from Antwerp, Brussels, Ghent and Leuven decided to write down their favorite music. As time passed, however, the paper turned yellow, the ink began to fade, and the music itself was left to gather dust. That is, until now! With their finely textured arrangements, WÖR injects new energy into 18th-century melodies, shining an inventive spotlight – with a modern twist – on these Belgian classics. All members are astonishing musicians, coaxing fantastic sounds from their saxophones, violin, bagpipes, accordion and guitar. Get ready to be surprised!
Black Curtain theatre: November 19 and 20
Three days before his bid for re-election – and in the wake of another school shooting – U.S. Senator Charles Whitmore has a life-altering crisis of faith, triggering an off-the-cuff comment to a Twitter-savvy blogger that sends his entire campaign into a tailspin. His campaign team desperately tries to contain the damage, but in a country where religion influences politics and politics have become a religion, how do you reach the people and stay true to yourself? A timely and fast-paced story, Church and State is simultaneously funny, heartbreaking, and uplifting.
Mainstage theatre: December 8-11 and 16-18
In Kate Hamill's sparkling adaptation of Louisa May Alcott's classic novel Little Women, Jo March is not your typical Victorian lady. She is ambitious, rough around the edges, headstrong, and yearns for the day when she will be a great American novelist. As the nation is torn apart by civil war, Jo and her sisters struggle with what it means to grow up, as each sister must negotiate her private ambitions with society's expectations of gender and class. Written with a contemporary flair, Jo March gives us her greatest story for the holidays: the March sisters, four dreamers destined to be imperfect little women. 
Black Curtain theatre: January 21 and 22
In Collected Stories, student Lisa Morrison is thrilled to be under the tutelage of her literary idol, Ruth Steiner. Over the years, Lisa becomes Ruth's personal assistant and gradually her friend, as Ruth helps her hone her writing abilities. But as Lisa's career begins to flourish and Ruth's begins to fade, can the tenuous relationship between mentor and mentee survive ambition, rivalry, and eventual betrayal? This play explores the complicated relationship between two independent women as they struggle to define what, if anything, is off-limits in art.
Music: February 3
The sounds that stir the dry winds of Southern Spain and Morocco, two countries separated by only a whisper of the Mediterranean, are the musical DNA of the beautifully complex music of Seffarine. Soulful singer Lamiae Naki, who sings in Arabic, Farsi, Spanish and French, and musician Nat Hulskamp, who plays the flamenco guitar and oud, are joined by acclaimed bassist Damian Erskine, Persian master percussionist Bobak Salehi, and flamenco dancer Manuel Gutierrez. The result is a lively and enriching musical journey throughout the Mediterranean and Middle East. Get your passport ready! 
Mainstage theatre: February 23-26 and March 3-5
Two family friendly plays shown together! The first show begins on Christmas morning when the Velveteen Rabbit, a shy stuffed bunny, enters the world of a young boy's nursery. Initially ignored in favor of more modern toys, she waits patiently to be noticed, wondering what it means to become Real and if she will ever be loved like the others. Adapted from the classic book, The Velveteen Rabbit is a heartwarming story about the transformative power of love.
The fun then continues with Bedtime Stories (As Told By Our Dad)(Who Messed Them Up)! It's Dad's turn to tell his three rambunctious kids their bedtime stories, but when he gets fuzzy on the details, the classics get creative: a prince with a snoring problem spices up The Princess and The Pea, The Boy Who Cried Wolf cries dinosaur instead, and Rumpelstiltskin helps turn all that pesky gold into straw. You may think you know your fairy tales, but not the way Dad tells them! 
Music: March 9
In the increasingly popular world of a cappella singing groups, Accent has carved out its own niche. Inspired by the wizardly jazz harmonies of TAKE 6 and The Hi-Lo's, the six men of Accent, all of them accomplished arrangers and instrumentalists in their own right, decided to take their love of close-harmony singing as far as it could go. The improbable meeting of Jean-Baptiste Craipeau (France), Simon Åkesson (Sweden), Danny Fong (Canada), Andrew Kesler (Canada), James Rose (United Kingdom), and Evan Sanders (USA) began in 2011 after becoming long-distance fans of each other's multi-tracked videos on YouTube. Since then, they have released four albums, toured the globe, and created a huge fan base!
Mainstage theatre: April 6-8 and 12-15
When a complaint is filed against a teacher in New York's public schools, they are sent to a Reassignment Center where they must wait for their case to be reviewed – usually for months, sometimes for over a year. A claim of improper behavior by a failing student lands Evelyn Reid in "the rubber room," where she encounters a group of teachers, some guilty, some not, who have long since lost any hope of returning to a classroom. Over the course of the school year, these colleagues learn French, workshop a screenplay, and ultimately form an unlikely alliance, reminding each other of forgotten passions. A poignant and funny drama, Evelyn In Purgatory is "the Breakfast Club for teachers."
Music: April 22
Hailing from LA, The Black Market Trust are a charismatic pop/vocal jazz band who combine the sounds of legendary American crooners and vocal groups with the fire and energy of Gypsy Jazz guitarist Django Reinhardt. Consisting of five world-class musicians, The Black Market Trust features material from the Great American Songbook – ranging from Sinatra to the Beach Boys to the Beatles – and infuses it with Django's romantic and virtuosic flavor. Add some intricate vocal harmonies and a dash of Rat Pack-style comedy, it's clear to audiences why The Black Market Trust have quickly earned a reputation as one of the premier live acts performing in music today!
Black Curtain theatre: May 6 and 7
Meet Harry and Sam: two blue-collar friends who like to pass the time posing outlandish questions to one another. Why is life like a Ding Dong? Where do sandwiches come from? Why is reincarnation named after a flower? Their dialogue initially sounds like a Monty Python skit, but soon deepens as the men try to make sense of what everything means. How are men and women different? How well do people really know each other? Is there life after death? As time passes, the questions, once shrouded in indifference, reveal the men's characters, eventually exposing a truth that changes their friendship forever. A clever comedy about life and big questions. 
Mainstage theatre: May 26-29 and June 2-4
It's 1942 and two of Hollywood's biggest divas have descended upon the luxurious Palm Beach Royale Hotel to perform at a USO benefit. Complication number one: the two ladies have a legendary ongoing feud that turns violent if they come near each other. Complication number two: the performers both wind up booked into the same Presidential Suite! Throw in a beleaguered general manager trying to keep the peace, two easily confused bellhops, a nose-rubbing society matron, and a gossip columnist looking for dirt, this play of mistaken identities, double entendres, and a lap dog named Mr. Boodles is a hilarious, laugh-out-loud romp. A true love note to the classic farces of the 30s and 40s!
Are you in the Buzz?
406.Buzz is your best resource for the latest events happening around the Montana Flathead Valley area. From Kalispell and Whitefish to Eureka and Columbia Falls, we've got the hottest events, best outdoor activities, restaurant lists, and so much more.  From farmers' markets and breweries to festivals, music events and family fun entertainment, we know all the buzz happening around town.
Whether you are a local or a visitor, we have all the insider information on the best places to check out every day of the week. Check out our  Events Calendar – HERE –  and get in the buzz!