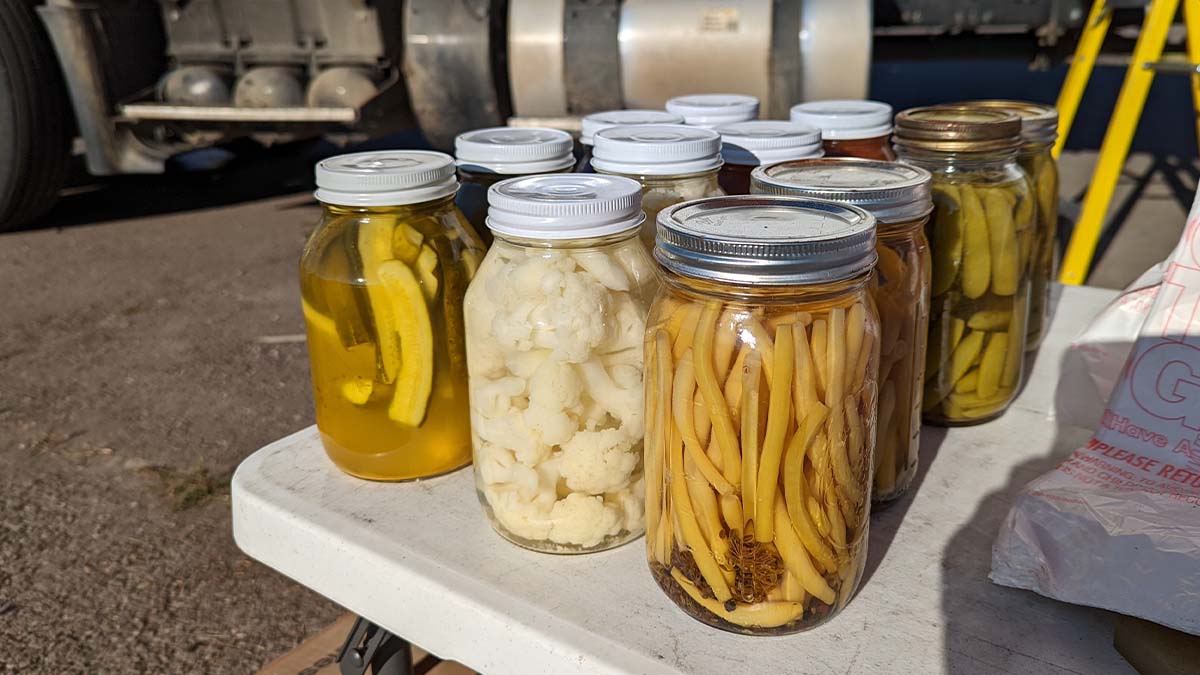 It is that time of year when the Hillside Colony Hutterites from Sweet Grass, Montana,  come to the Flathead Valley area with a wonderful selection of delicious foods. On Tuesdays from 8:30am until 6pm, head on over to the Army Navy Parking Lot in Evergreen and get ready to be wowed with their wonderful selection that include onions, cucumbers, salsa, banana bread, lettuce, cookies, pies, cinnamon rolls ,and even chicken.
Hillside Hutterites Farm to Table Shopping Items
There are so many great items to get for lunch, dinner and maybe even a little sweet dessert. Some of the shopping list items include Apple, Cherry and Rhubarb Pie ($8 Each), Peas, Carrots, Broccoli, and Cauliflower ($3 Each), Pickled Snap Beas, Cucumbers, Carrots ($8 Each), Head of Lettuce ($2 Each), Banana Bread ($4 Each), and even White/Rye Bread or Buns ($5 Each). This is just a small sample of the items that the Hillside Hutterites Farm to Table Shopping has to offer….and yes, EVERYTHING is grown and produced by the group. Each week, they also bring something special from beet muffins to garlic just pulled over the weekend. The Hillside Hutterite Colony really have shared a wonderful treat with the Flathead Valley Community.
Are you in the Buzz?
406.Buzz is your best resource for the latest events happening around the Montana Flathead Valley area. From Kalispell and Whitefish to Eureka and Columbia Falls, we've got the hottest events, best outdoor activities, restaurant lists, and so much more.  From farmers' markets and breweries to festivals, music events and family fun entertainment, we know all the buzz happening around town.
Whether you are a local or a visitor, we have all the insider information on the best places to check out every day of the week. Check out our  Events Calendar – HERE –  and get in the buzz!