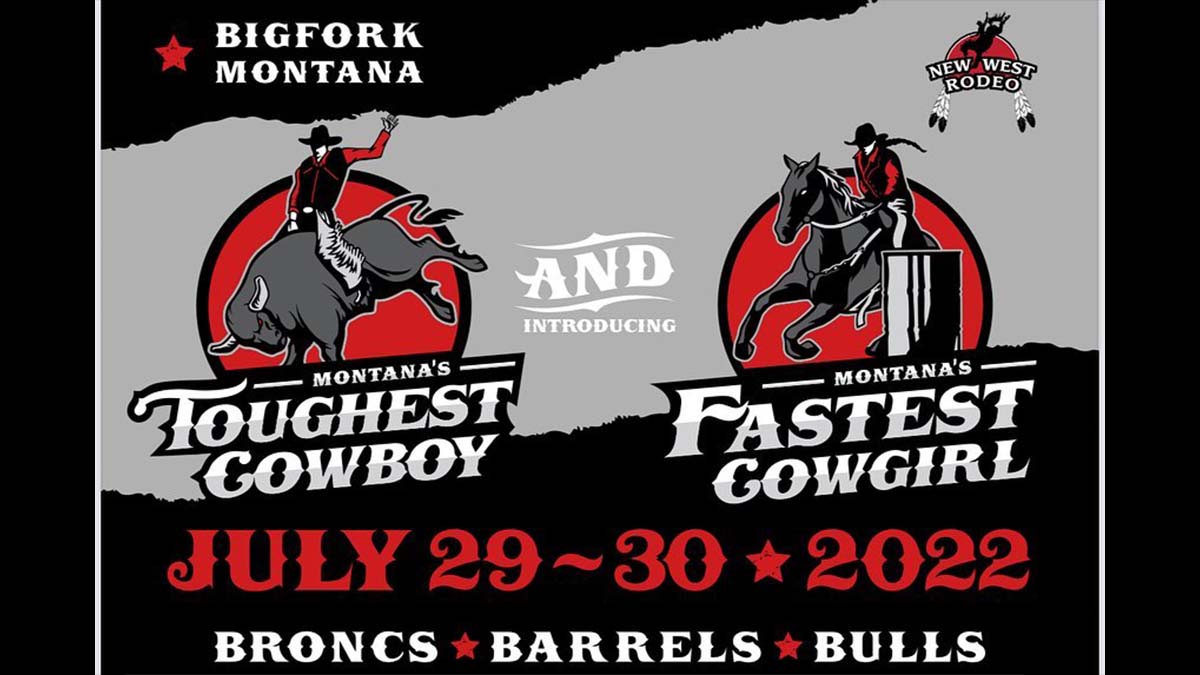 Who's Montana's Toughest Cowboy? Who's Montana's Fastest Cowgirl? It's time for us all to find out at the Bigfork Montana Rodeo on July 29-30, 2022 at the Bigfork Arena. Rain or Shine…The show will go on and we will all know who is Montana's Toughest Cowboy & Fasted Cowgirl!
"Bigfork Rodeo Events and New West Rodeo Productions brings another year of great rodeo events to Bigfork Montana. Two nights of action packed fun and entertainment for all. We'll crown the toughest cowboy and fastest cowgirl in Montana. Best Rodeo, Fans Arena Games, Great BBQ, Cold Beer, Live Music, Best Community."

Montana's Toughest Cowboy & Fastest Cowgirl
JULY 29-30, 2022 – 5pm-11pm
FRIDAY & SATURDAY NIGHT BIGFORK ARENA
Montana's Toughest Cowboy & Fasted Cowgirl Tickets start at $15
Get Your Tickets – HERE!
About New West Rodeo
New West Rodeo Productions is one of the few native Montanan PRCA stock contractors. They have had supplied stock to the NFR, bulls to the PBR World Finals, and stock at the Indian National Finals.
New West Rodeo Productions is located in Browning, Montana on the east slope of the Rocky Mountains. They are a family owned and operated rodeo production and stock company dedicated to the respect and well-being of their livestock. Their motto is to provide a fast-pace high-energy rodeo production – making each event exciting for family entertainment. New West Rodeo Productions is on the rise with their "Born to Buck" program and their achievements in the Pro Rodeo Industry. They may be a younger PRCA stock contractor but their accomplishments in a short time are spectacular. They are proud of their livestock earnings and achievements, bringing many NFR, PBR and Montana Pro Rodeo Circuit awards. They bring to you the best of their genetically validated "born to buck" program. Their inventory has over 200 head of horses. Their cross-bred bulls are proven champions with PBR award recognition. Learn more – HERE.
Are you in the Buzz?
406.Buzz is your best resource for the latest events happening around the Montana Flathead Valley area. From Kalispell and Whitefish to Eureka and Columbia Falls, we've got the hottest events, best outdoor activities, restaurant lists, and so much more.  From farmers' markets and breweries to festivals, music events and family fun entertainment, we know all the buzz happening around town.
Whether you are a local or a visitor, we have all the insider information on the best places to check out every day of the week. Check out our  Events Calendar – HERE –  and get in the buzz!