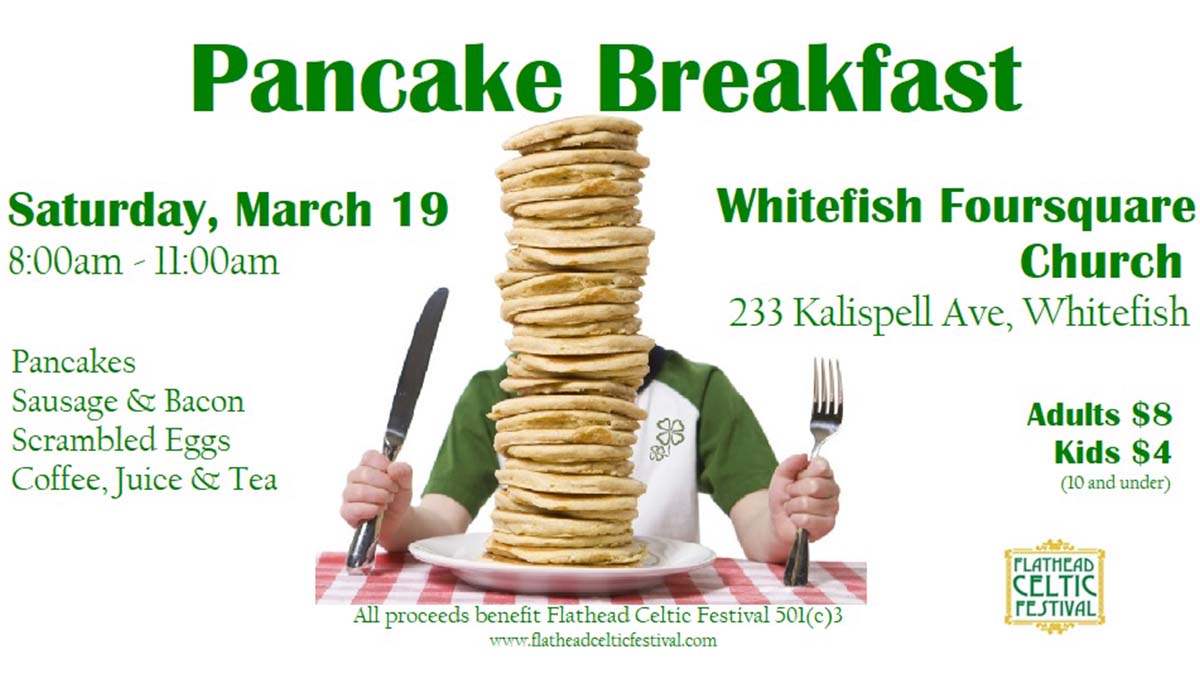 There is something so wonderful when it comes to a nice big breakfast and of course pancakes! On Saturday, March 19, 2022, from 8 am until 11 am, head over to the Whitefish Foursquare Church located at 233 Kalispell Avenue in Whitefish for a Pancake Breakfast. There will be pancakes, sausage, bacon, scrambled eggs, coffee, juice and tea. All of the proceeds will benefit the Flathead Celtic Festival 501 (c) 3. Tickets are $8 for adults and $4 for kids ages 10 and under. Learn more about the pancake breakfast on the Flathead Celtic Festival – HERE.
The Pancake Breakfast & the Flathead Celtic Festival
The Flathead Celtic Festival is an organization dedicated to promoting, preserving, and exposing our community to Celtic culture for the educational benefit of the people in this region and its visitors. The organization provides education through locals and visitors to music, dance, history, ancestry, language, food, crafts, and traditional athletic events in public venues as well as utilizing the corporation's website to provide facts, statistics, and other related data on Celtic Nations.
Our programs include holding fundraising events in order to promote our agenda and create funds to make the festival fiscally viable and sustainable for years to come.
The Pancake Breakfast Fundraiser is a great way to support the upcoming Flathead Celtic Festival which will take place on September 9-10, 2022 at the Centennial Farm in Kalispell. All of the proceeds benefit the Flathead Celtic Festival. Mark your calendars because on April 5, the Feis Fundraiser will take place at backslope brewing in Columbia Falls. Learn more – HERE.
Are you in the Buzz?
406.Buzz is your best resource for the latest events happening around the Montana Flathead Valley area. From Kalispell and Whitefish to Eureka and Columbia Falls, we've got the hottest events, best outdoor activities, restaurant lists, and so much more. From farmers' markets and breweries to festivals, music events and family fun entertainment, we know all the buzz happening around town.
Whether you are a local or a visitor, we have all the insider information on the best places to check out every day of the week. Check out our Events Calendar – HERE – and get in the buzz!