COME ONE COME ALL ITS A TOP DAWG BRAWL!! High Flying, Bar banging Supercross Racers take flight in the Northwest Montana Fairgrounds Arena! Concessions and Beer Gardens Available! Family Fun For All!! Pit Bike Giveaway and more… all at the Top Dawg Arenacross Kalispell!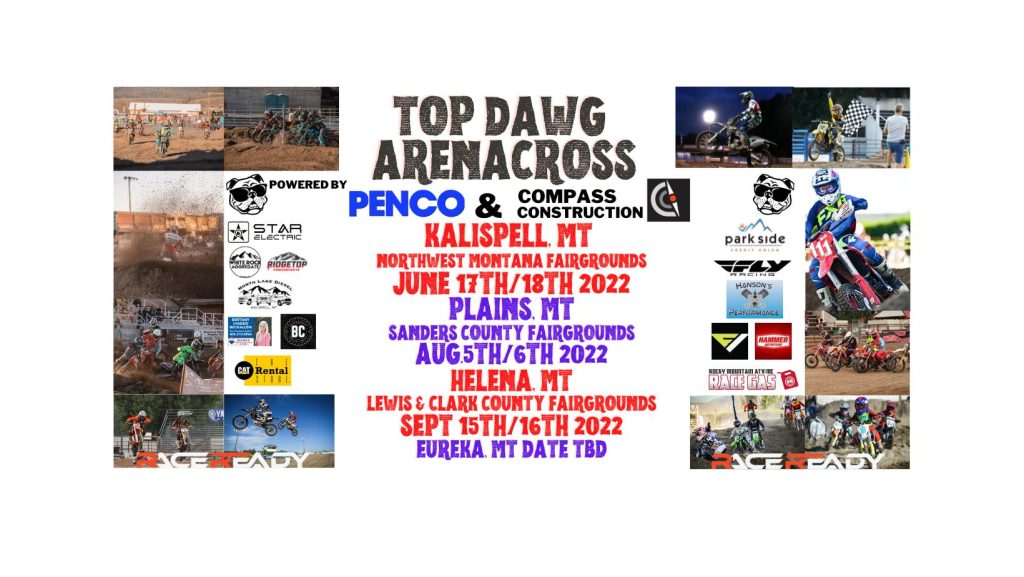 Top Dawg Arenacross Kalispell Details
Top Dawg Arenacross Kalispell will take place on June 17th and 19th, 2022. The gates open for guests at 5:30pm with the racing beginning at 7pm. Adults are $20.00, Kids are $10.00, and five years old and under are free. Are you interested in competing? There are opportunities for both Amateurs and Pros that offer the winners trophies and cash payouts. If you are interested in earning more about tickets or participation, click HERE.  Guests will also have access to both food and a bar. Plus, there will be a pit bike giveaway.
Don't worry, if you cannot make it to the Top Dawg Arenacross in Kalispell, there will be several more opportunities. On August 5th and 6th, Top Dawg Arenacross will be at the Sanders County Fairgrounds in Plains. Then, on September 15th and 16th, 2022, they will be at the Lewis & Clark County Fairgrounds in Helena. The Eureka date has yet to be set, but they will be heading there too.
Are you in the Buzz?
406.Buzz is your best resource for the latest events happening around the Montana Flathead Valley area. From Kalispell and Whitefish to Eureka and Columbia Falls, we've got the hottest events, best outdoor activities, restaurant lists, and so much more.  From farmers' markets and breweries to festivals, music events and family fun entertainment, we know all the buzz happening around town.
Whether you are a local or a visitor, we have all the insider information on the best places to check out every day of the week. Check out our  Events Calendar – HERE –  and get in the buzz!