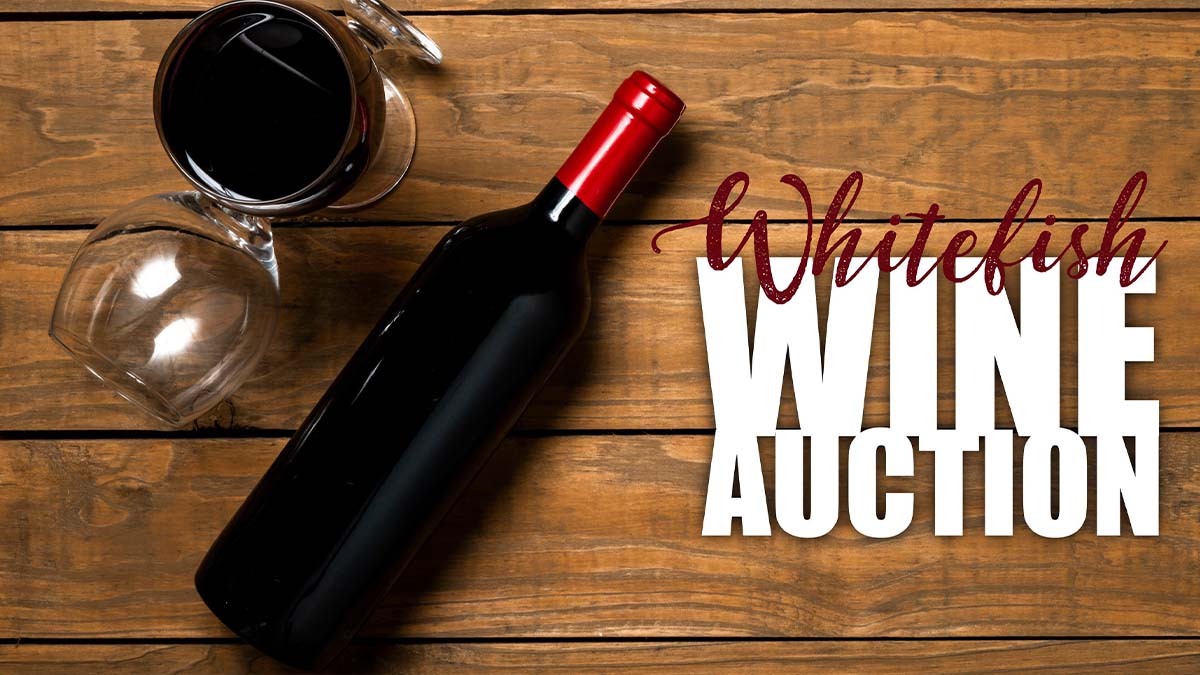 Are you a wine enthusiast? If your answer is yes, then mark your calendar for the Whitefish Wine Auction. The Whitefish Wine Auction is three days of Wine, Food and Song and will take place August 10 through August 12, 2022. From casual wine tastings to food and wine pairings at private residences and even a gala and wine auction, the Whitefish Wine Auction has something for every palette. All proceeds benefit ATP's professional and educational arts programs.
Whitefish Wine Auction Details
UnWINEd – Wine Tasting – Wednesday, August 10 At 5:30pm – Grouse Mountain Lodge – $60.00
A single ticket to our casual after-work wine tasting featuring the exquisite wines of our featured wineries. You'll learn more about each wine, enjoy tastings, and have an opportunity to order them!
Private Vintner Dinners – Thursday, August 11 At 6pm – The Home Of Carl Straub & Brenda Bernheim – $150.00
A ticket to the private vintner dinner at the Straub Residence in Kalispell. Featuring Chef Andy Blanton, Battuello Vineyards, Blue Samurai, & Lede Family Wines. 
Thursday, August 11 At 6pm
The Home Of Dr. Reed & Cooke Thompson – SOLD OUT
Featuring Chef Earl James Reynolds & Melville Winery
Thursday, August 11 At 6:30pm
The Home Of Margo Jacbos – SOLD OUT
Featuring Chef Christian Moreno & Chalk Hill Winery
A series of exclusive wine-pairing dinners at private residences across the Flathead Valley. Each home-hosted dinner will feature an exclusive pairing of an acclaimed chef with a featured winery.
The Gala Auction & Dinner – Friday, August 12 At 6pm – The Lodge At Whitefish Lake
The main event! Enjoy food, wine, and world-class ATP entertainment as the sun sets on beautiful Whitefish Lake. Featuring a fantastic auction featuring rare wine and wine-themed excursions – including an elegant Mediterranean cruise on the world's most luxurious cruiseline, Silversea!
Click HERE for Ticket Information. 
2022 Featured Wineries
Foley Food & Wine Society
The Foley family & Foley Family Wines has had a strong Whitefish connection for years, including controlling ownership in Whitefish Mountain Resort and Glacier Restaurant Group, which includes MacKenzie River Pizza, Craggy Range Bar & Grill, Ciao Mambo, and Latitude 48, as well as the Vegas Golden Knights NHL hockey team. William Foley's love of good wine led him to the wine industry. There he started Foley Food & Wine Society to celebrate three of life's greatest passions – world-class wines, exquisite cuisine, and amazing experiences. Foley Food and Wine has a unique and diverse portfolio of wineries in California, the Pacific Northwest, New Zealand, France and Argentina. Each has its own individual identity, style and distinctive personality.
More at foleyfoodandwinesociety.com
Melville Winery
Founded in 1989, Melville is a family-owned and operated estate winery with its roots in Sonoma County's Knights Valley, where Ron Melville grew high-quality and greatly sought-after grapes. In 1996, Ron's desire to grow cold-climate Pinot Noir, Chardonnay, and Syrah brought Melville Vineyards to the Sta. Rita Hills, located in the Western Santa Ynez Valley of Santa Barbara County. Today, Ron and his son, Chad Melville, uphold Melville's tradition as one of the most highly-regarded estates in California.
More at melvillewinery.com
Battuello Vineyards
Since 1909 the Battuellos have believed that great wines are grown by careful hands and an intimate knowledge of the land fostered by working the soil vintage after vintage. To that end, the Battuello family has cultivated the same rocky soil in St. Helena for over 100 years, producing excellent grapes for award-winning wines in the region. For five generations the Battuello Family has been growing vines in the renowned Napa Valley. Battuello Vineyards, in St. Helena, was founded in 1909 by Matteo Battuello and his wife Serafina, who immigrated to California from Northern Italy. Four generations later, the vineyard is operated and managed by Craig and his son, Dave. They believe still that great wines are grown by careful hands and an intimate knowledge of the land fostered by working the soil vintage after vintage. That is how the family has been able to cultivate the same rocky soil in St. Helena for over 100 years and continue to produce excellent grapes for award-winning wines in this region.
More at: battuellovineyards.com
2022 Featured Chefs
Chef Andy Blanton
Andy Blanton is one of the most acclaimed chefs in Montana and the Pacific Northwest for that matter. Blanton, the executive chef and owner of Café Kandahar, is a four-time semifinalist for the James Beard Foundation's best chef in the Northwest region, and his Big Mountain restaurant has carved out a widely praised culinary reputation for excellence. Blanton moved to Whitefish in the fall of 1999 from New Orleans, where he worked at two prestigious institutions: Commanders Palace and Brigtsen's. But like many in the industry, he worked his way up from the bottom, starting as a dishwasher in Virginia Beach during high school before moving up to prep cook, cook and culinary school. He describes Café Kandahar fare as thoughtfully constructed cuisine that essentially incorporates a variety of styles and techniques, both classic and modern. It doesn't really categorize menu options or the restaurant into a specific cuisine. Chef Andy adheres to the farm-to-table approach and cooking with local ingredients as much as possible and without a lot of similarities on the menu, meaning each dish has its own composed features.
Chef Earl James Reynolds
Chef Earl is a Whitefish native. Originally planning to be a painter, he switched his canvas to the plate and attended Seattle Central Culinary academy. He previously worked at Canlis in Seattle, and Restaurant Trokay in Truckee, California. Upon moving back to Montana, Chef Earl became the Sous Chef at Tupelo Grille in Whitefish, and was the Executive Chef at the Belton Chalet in Glacier National Park. Chef Earl was recently named the Executive Chef at Stone Hill Kitchen+Bar in Bigfork.
Chef Christian Moreno
The Moreno Halphen family has been in the food and coffee industry for over 80 years, and their love and dedication to the craft is always evident, from the flavors in the menu to the décor of the Café itself. Their story began with their maternal grandmother, who founded Finca Don Bosco, a coffee estate on the Talamanca Range between Panama and Costa Rica. Sonny and Choly Moreno inherited this family business, and they, along with their four sons, elevated the estate's coffee production both domestically and internationally. They created an outstanding product while always staying focused on their values: tradition, conservation, sustainability and respect for the land. Today, the family tradition is being carried forward by award-winning Executive Chef, Christian Moreno, from Swift Creek Cafe, who earned his degree from the top French pastry program, "Ecole Nationale Supérieure de Påtisserie" in Yssingeaux, France. He brings to Whitefish the extensive culinary experience he gained while working for and training under world-class chefs across the United States.
Are you in the Buzz?
406.Buzz is your best resource for the latest events happening around the Montana Flathead Valley area. From Kalispell and Whitefish to Eureka and Columbia Falls, we've got the hottest events, best outdoor activities, restaurant lists, and so much more.  From farmers' markets and breweries to festivals, music events and family fun entertainment, we know all the buzz happening around town.
Whether you are a local or a visitor, we have all the insider information on the best places to check out every day of the week. Check out our  Events Calendar – HERE –  and get in the buzz!